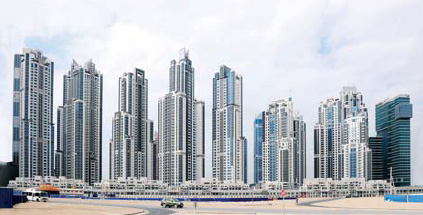 Office buildings in Dubai, United Arab Emirates. Their curtain walls were developed by Shenyang Yuanda Group.
Peter Tschudin has a very busy schedule in China, flitting around from city to city - places such as Shenyang, Shanghai, or even Dubai - and working overtime without a proper weekend.
"But I don't feel tired because l like my job," said the 68-year-old Swiss native and expert in designing curtain walls, an outer, non-structural covering of a building, usually made of light material.
Tschudin worked with a Swiss company before joining the Shenyang Yuanda Group in 2008, the year it built an R&D center in Switzerland. It also asked Tschudin to be technology director of the Shenyang Yuanda Aluminum Industry Engineering Co Ltd.
After that, he was put in charge of the company's curtain wall design, contract negotiations and market development.
"I've known Yuanda for nearly 10 years and think there're few companies that could provide such a variety of opportunities for me," he said.
Tschudin's experience reflects a developmental trend globally - with industries shifting from developed to underdeveloped countries.
And because of China's great potential and fast growth, it has become one of the major places to see an industrial transition.
Urbanization is increasing, with skyscrapers shooting up everywhere, setting records in sheer numbers and in height over the past decade.
More than $1 trillion was spent on new buildings in China in 2010, surpassing the United State and putting China on top in the world, according to a March report from the accounting firm PwC, Global Construction Perspectives magazine, and the economic forecasting consultancy Oxford Economics.
(China Daily 06/01/2011 page42)