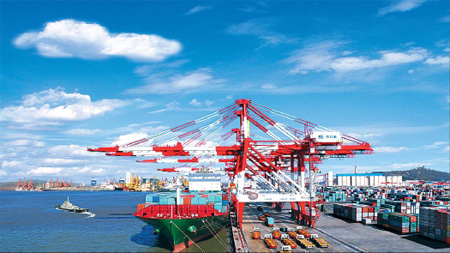 Busy container terminal for Liaoning. The coastal province is looking for closer economic cooperation with its neighbors, Japan and South Korea. Photos Provided to China Daily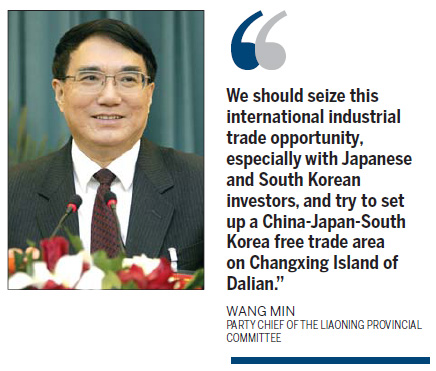 China's Liaoning province has plans to build a free trade area off the coast on Changxing Island to increase trade with Japan and South Korea, the provincial Party chief has said.
The idea is to help the northeastern province become a trade hub as well as a multifunctional service center, said Wang Min.
"We should seize this international industrial trade opportunity, especially with Japanese and South Korean investors, and try to set up a China-Japan-South Korea free trade area (FTA) on Changxing Island of Dalian."
Liaoning sits next to Bohai Bay, China's northernmost coastal province, and close to Japan and South Korea.
For the past five years, Japan and South Korea have been the province's largest investment source, accounting for as much as 12 percent of the total, according to the Liaoning Foreign Trade and Economic Cooperation Bureau.
Dalian has long been the first investment choice in Liaoning, for many Japanese and Korean companies. This has been especially true after Liaoning's coastal economic belt was included into a national strategy in 2009. And the island has played a major role in the coastal development.
"Changxing Island is very important to Liaoning's opening-up," explained Zhang Zhiqian, chief assistant to the provincial bureau.
"The island has been declared a national economic and technological development zone, so we'll open up more and make it a provincial model," Zhang said.
The plan for a China-Japan-Korea FTA has attracted a lot attention since it was first proposed in 2002. The three countries' aggregate GDP accounts for 70 percent of Asia's total, an economic scale that is second only to the European Union and North America.
One result of the third China, Japan, Korea summit, held in Chejudao, South Korea in May 2010, was the 2020 Sino-Jap-Koa Cooperation Outlook paper.
The Outlook contains plans for a joint study of the FTA and a multi-lateral investment agreement among the three, before 2012.
At the same time, they have agreed that a trilateral cooperation secretariat should be set up in South Korea this year to advance FTA talks.
As a result, provinces and cities along Bohai Bay, including Liaoning and Shandong provinces, and the city of Tianjin, are getting in line to get involved in the FTA.
"Liaoning's advantages are distinct," said Lu Chao, who specializes in cross-border relations at the Liaoning Social Sciences Academy.
Those advantages include its proximity to and close trade ties with Japan and South Korea, complementary economies, and favorable policies, Lu said.
To promote Changxing as a place for the FTA pilot, Liaoning is inviting officials from the Department of Commerce, General Administration of Customs, and other central government departments to come take a look first hand.
If the island is successful in its bid, the region will have favorable tariffs and more capital capital and human resources, local officials say.
The province is expected to rely on the FTA for an opening-up breakthrough, Wang, the Party chief, said.
"We'll expand our trade volume and increase cooperation with Northeast Asian countries in economic exchanges."
(China Daily 06/01/2011 page42)