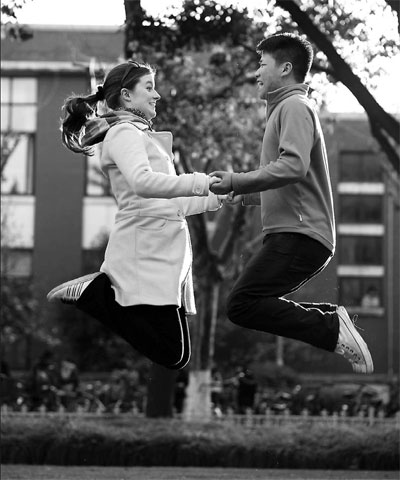 Newlyweds Megan Millward and husband Zhang Lie are breaking new ground with their marriage. Provided to China Daily
The stereotype has always been Chinese girls, foreign men. But now more and more Western women are studying, working and marrying in China, and they are discovering the charms of their Chinese husbands and writing about the experience. Mary Katherine Smith reports.
When Megan Millward came to Hangzhou in the summer of 2007 on her first trip to China, she did not expect to meet the man she would spend the rest of her life with after just four days. The 25-year-old Canadian recalls meeting her husband in the dormitory where she was living while studying at Zhejiang University, and being instantly drawn to him. He was fit, nice-looking and Chinese. Millward, who is earning her master's degree, and her husband, Zhang Lie, are in the minority of cross-cultural relationships in a country where it's common to see foreign men dating and marrying Chinese women but not necessarily the other way around. With the predictions by the National Population and Family Planning Commission that there will be 30 million more males than females aged 20 to 45 by 2020, Millward sees her marriage with Zhang as a small way to help even out the imbalance.
Chinese men still have a long way to go in wooing foreign women. A survey of 100 adult Caucasian women with experience living and working in China by Zhang Jiehai, a sociology professor from Shanghai Academy of Social Sciences was released early last year. It revealed some common stereotypes of the image of Chinese men in the Western women's eyes.
Chinese men were complimented as being family-oriented, willing to spend money on women and serious about relationships, but there were also some negative characteristics. They had ungentlemanly manners, poor physique and a lack of personal opinion. Almost every participant in the survey critiqued Chinese men as having bad habits - like spitting, growing long fingernails and lacking good dental hygiene.
But despite the generalizations, there are Western women who have looked beyond stereotyping and found love in China. Among them is a group of women who are writing about their atypical pairings.
Melanie Gao, a 43-year-old from Tuscaloosa, Alabama who works in Beijing as a corporate trainer, writes a blog (thedowntown
diner.blogspot.com) where she shares her experiences in a cross-cultural marriage. Her first stop in Asia was in Japan in the 90s to study, and she says she was not initially attracted to Asian men.
She first met Gao Xin, her husband, when he helped her through the process of ordering dinner in the cafeteria at their university in Chiba, Japan. At one point, he asked her if that would be enough food for her.
"I was touched that he was asking about the amount of food I was eating," she says. Gao would later realize that making sure others have enough to eat is a common gesture in China, but this cultural difference helped bring the couple together.
But the differences that Western women and Chinese men face go far beyond eating habits. Dating and courtship can be very different from what Western women are used to. She says the initial dating period moved at a slow pace and she practically had to ask him to kiss her.
"But once he kissed me he moved very fast and talked about love and marriage just days later."
Jocelyn Eikenburg, a 33-year-old American who blogs on speakingofchina.com, had a similar experience when she first began dating her husband, Jun Yu. "Immediately after we first started dating, he was calling me laopo." That is Chinese for "wife".
She was surprised by how quickly the relationship had gone from friend to potential spouse. Her blog focuses on cross-cultural relationships between Chinese men and Western women.
Family can also be another hurdle for many foreign women in relationships with Chinese men.
When Jun told his family about his relationship with Eikenburg, his father did not approve. "He cautioned me about dating a foreign girl and did not want me to get hurt," Jun says.
His family's attitude toward their son dating a foreign woman quickly changed when Eikenburg went home with Jun for Chinese New Year. When she showed his father pictures of her family at home, "it really opened him up", she says. As filial piety is important to Chinese families, Eikenburg says that experience helped break down barriers.
Millward and Zhang met similar hesitations at the beginning of their relationship. "My parents were unhappy at the beginning," Zhang says. His family thought he should find a girlfriend to marry who would be more traditional, but "after Megan met my parents they thought she was a very good girl".
Other hurdles can often include the involvement of the family in the couple's life. Gao says she's had to adjust to how much her husband's parents are involved with their life, having been raised to be more independent. It's been difficult getting used to including his parents with major decisions, adding that her mother-in-law even went along on their honeymoon.
She's also been surprised by his parents' involvement in raising their children. "They're way more involved than I expected," she says. "But if we asked them not to guan (or interfere with) us, then it would be like we're refusing their love."
"When you marry a Chinese you marry the whole family," says Jo Gan, a 42-year-old African-American woman who is a director of foreign teachers in Yuyao, Zhejiang province. She adds that she's not used to the fact that her husband's parents call every day, visit often and when they want him to do something he has to jump to do it right away.
Gan, who blogs about her experiences in China in a cross-cultural marriage at lifebehindthewall.wordpress.com, says the biggest hurdle they've had is other people's problems with their relationship. She attributes it to the negative stereotypes of black women in China.
"All of it has to do with education and understanding," she says, adding that others see him marrying someone with dark skin as marrying low. "Its like he loses face just being married to me."
Gan and her husband, who is a translator in a local factory in Yuyao, have been able to rise above the unwanted comments and judgments from friends and strangers.
"We have no problems with our relationship," she says. "We understand each other and support each other in everything we do."
These women's personal, candid blogs have helped online communities of Western women and Chinese men looking for advice, or even sometimes love. Eikenburg, who writes Speaking of China, arguably the most popular blog discussing these rare pairings, says the most common question she receives from Chinese men is where to meet foreign women, while Western women are often unsure of how to "read" Chinese men.
Despite the challenges, these women and their husbands find their cross-cultural marriages incredibly fulfilling. "There are benefits to having two cultures," says Eikenburg, adding that they like to explore each other's language and culture. "We have a much stronger bond because of it."
(China Daily 05/29/2011 page4)