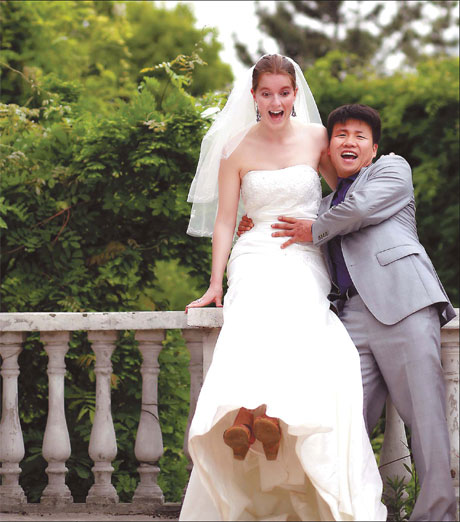 Marriage is always hard work, more so when it comes to a wedding that involves a union of very different cultures, families and countries. The China Daily Sunday team files this special report on cross-cultural marriages today.
There are now about 600,000 foreigners working and living in China, a number not including those visiting for less than three months. On the other side of the coin, 1.91 million Chinese have chosen to further their studies overseas since 1978 right up to last year, according to the Ministry of Education. Slightly more than 630,000 have returned to China, but that still means 1.27 million Chinese are still living, working or studying abroad. These are mere numbers. When translated into living, breathing terms, it means intimate interaction between Chinese and non-Chinese is now greater than ever - and a natural result of that contact is the increase in cross-cultural relationships, and of marriages.
While cross-cultural marriages are not new, the nature of the union is changing. The playing field is more level, and nowhere is that more apparent than in the growing numbers of foreign women marrying Chinese men, as Mary Katherine Smith finds out in Shanghai.
It is a very different world from when Dan Waters married his Chinese bride 50 years ago. "Never marry a Chinese woman," he jokes wryly, quoting the late Australian journalist Richard Hughes. "They're steel rods swathed in flowers."
Neither Hughes nor Waters paid any attention to this homily, and if Waters was not personally in a cross-cultural marriage, he would never have written One Couple, Two Cultures, a study of 81 Western and Chinese couples, as he tells Rebecca Lo in Hong Kong.
It is also in Hong Kong that we discover the author of yet another book, The Eurasian Face. Kirsteen Zimmern herself is the product of a mixed marriage, which failed, unfortunately.
She is married to another Eurasian, and she credits the contentment of their union to a shared understanding of surviving a household with two cultures.
Contributor Donna Mah shares a first-person account of how she "married a nice Chinese boy" according to her grandmother's advice and found that cultural differences are not shut out by ethnicity, but can result from a different nurturing environment even when you are of the same race. But some seek comfort in familiarity. In Beijing, Cang Wei finds out how pragmatic the current generation of young Chinese can be, with most saying they will think hard before taking a leap into the unknown and unfamiliar.
In this special report, we let the couples committed to cross-cultural marriages tell their stories - tales that reflect the globalization shrinking distances between cultures and people. It is also about maturing attitudes, and the shattering of traditional stereotypes that can only bring about a better understanding of how we can all live together in harmony.
Stories on Page 3, 4
The China Daily Sunday team
(China Daily 05/29/2011 page1)