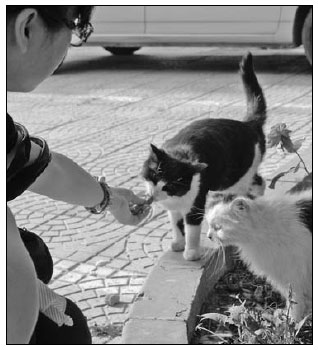 Zhou Xiaoqing, a student at the University of International Business and Economics in Beijing, feeds two stray cats on Friday. Geng Feifei / for China Daily
BEIJING - Many university graduates who had once doted over pets are abandoning cats and dogs as they leave campus, leaving the pets to the mercy of volunteer caregivers.
Gong Jian, a marketing major at the Chongqing University of Post and Telecommunications, found an abandoned dog in front of the university library on May 6.
At first Gong had thought it was a dog that had lost its way home. But after eliciting no responses to his many attempts at speaking to the dog's owner, he concluded that the dog had been abandoned.
"Keeping a pet is against university rules and may disturb other roommates," he said. "In the end, a classmate offered to take the dog to his home in Yibin, Sichuan province."
Many dogs and cats are abandoned after their owners lose the excitement they had felt when they had first got a pet and may then come to recognize just how much work and energy it takes to raise an animal, Gong added.
The increasing number of stray pets on campus has proved a headache for administrators.
"Their numbers increase every year when students are about to graduate," said Gu Jie, a logistic worker at Southwest University of Political Science and Law, who often feeds homeless cats and dogs on the campus.
She said university workers recently expelled some dogs to make the campus safer.
Chen Mingcai, head of the Association of Small Animal Protection in Chongqing, said the number of abandoned pets has increased on campuses because many students have recently taken a fancy to the idea of keeping a pet and are unaware of how large a responsibility they would be taking on by having one.
Some students exchange pets as gifts or symbols of love. But the fun often ebbs away when the owners are under pressure to finish dissertations and find a job, he said.
"Keeping a pet requires a considerable amount of time, energy and money," he said. "I don't think students are ready for all these. That's why they are not allowed to adopt pets from out association."
Wang Yan, a staff member at the Association of Small Animal Protection in Beijing, told China Daily that university students are most likely near graduation time and around summer and winter holidays to look for help in finding a new home for a pet.
"No matter how tempted they are to keep a pet, university students should refrain from it," she added. "University rules are against it, and we definitely do not recommend it. If they want to help us, they are welcome to volunteer on weekends."
Li Xiaoye, a member of an association protecting stray pets at the University of International Business and Economics in Beijing, said the association cares for more than 30 cats and three dogs on campus, feeding them twice a day at four locations.
"I think few of them came from student owners, because we have strict rules against keeping pets at school," she said. "Most of the little animals that we feed are abandoned or stray pets from nearby neighborhoods."
Many micro bloggers on Sina Weibo, the Chinese equivalent of Twitter, said they are sorry to hear that so many students have abandoned their pets.
"If these students can't live up to their responsibilities to look after a pet, they should have never bothered to adopt one," wrote a netizen, who goes by the name Bagan Caf, on a post in his micro blog.
Cao Yin contributed to this story.
China Daily
(China Daily 05/28/2011 page4)