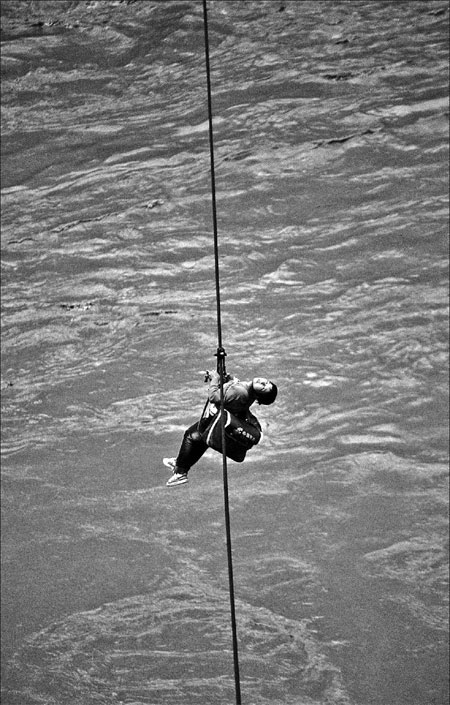 Nyima Lamo slides along the steel cable to cross the Lancang River. Photos Provided to China Daily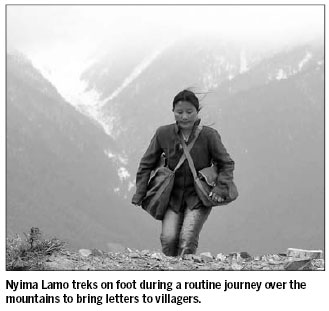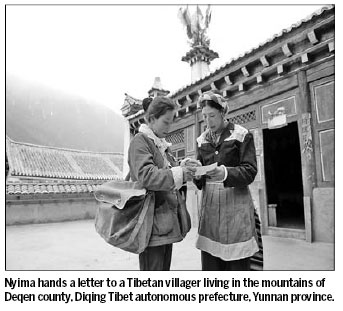 Neither the roaring Lancang River nor mudslides and mountain gales have kept the 'messenger in red?from delivering letters in remote parts of Yunnan province. Sun Li reports.
As a postal worker in her mountain-locked hometown in southwestern China, Nyima Lamo never imagined she would one day end up in Bern, Switzerland. Early in May, Nyima spoke on behalf of more than 840,000 Chinese mail service staff at the annual meeting of the Universal Postal Union (UPU) in the Swiss capital. She received a standing ovation from representatives of more than 70 countries.
The 35-year-old Tibetan works in Deqen county, Diqing Tibet autonomous prefecture, Yunan province, where the altitude ranges from 1,000 to 4,500 meters above sea level.
"Most villagers in this underdeveloped region still rely heavily on letters to connect with the outside world," Nyima says. "Despite the difficulties I knew I would encounter, I chose to become a postal worker in 1999 as I see delivering mail as a sacred duty."
The terrible road conditions in these areas mean Nyima has to trek on foot across deep valleys and snow-capped mountains to reach the letters to the villagers.
Her postal route covers 350 kilometers. A round trip can take more than a week, with the mailbags weighing at least 15 kilograms.
According to Nyima, the most hazardous part is crossing the Lancang River, whose ferocious currents have claimed many innocent lives, including that of her younger brother.
To arrive at the three villages on the opposite side, she needs to slide along an overhead zip line.
"The post office director showed me how to slide along it many times, but I still lost my strength the first time I linked the hook up to the rope," Nyima recalls.
"My breathing became increasingly labored, my legs were trembling badly and my mind went blank," she continues.
"The director gave me a push and the next thing I knew is I was hanging in the air, with the wind whistling about my ears and the waves surging below me."
Although she is now adept at using the line, Nyima admits she still feels a mix of "tension and thrill" when sliding along the steel cable.
When it rains, the rainwater affects the brakes, often causing her to bump hard against the cliff on the other side to stop, Nyima says.
"A fall into the river means certain death. I know I must bring letters to those eagerly awaiting them, so I am extremely careful."
As the terrain influences the local climate, it is common for Nyima to meet four seasons on her postal route in a single day.
"One minute you are walking under the scorching sun, and the next you find yourself stuck in snowdrifts," Nyima says, adding she often packs three sheets of plastic, along with her letters and food.
"In case of sudden rain, I need the plastic to cover the letters. It is my responsibility to protect the mail," she explains.
But the capricious weather is nothing compared to the other hazards she encounters - like snakes.
"When I chanced upon these creatures, I had the same feeling as the first time I used the ropeway," Nyima says. "To encourage myself and to overcome my fears, I often belt out folk songs. Or, I simply take a detour to avoid them."
Faced with mountain gales, mudslides and landslides on her postal journey, Nyima always wears bright-red clothes so she can be easily spotted in case of any trouble.
At night, she rests in the villages, where hospitable residents are happy to invite the "messenger in red" to their houses, offering her a place near the fire and treating her to their best food and drink.
"My happiest moment is when I am handing over the letters to the villagers," Nyima says, adding that she particularly likes to deliver college admission notices. They are the hardest to deliver as they are time-sensitive and must be handed over personally to the students. But many of them often go herding after retuning from school.
Once, to locate a student, Nyima had to spend six days navigating meandering mountain paths and running to different villages to ask about him.
She finally found him herding cattle in a remote ranch.
"Thinking of these children leaving the mountains and building bright futures for themselves makes me feel that my efforts have been worth it," she says.
In the past 12 years, Nyima has never taken a day off, except for maternity leave.
Her devoted service has earned her much recognition. She joined the Communist Party of China in 2006 and in 2008, was selected as one of the top 10 Outstanding Chinese Youth.
Speaking of her latest honor, the first woman rural postal worker to take the stage at the annual meeting of UPU, says she would like to share the credit with 16,000 mail carriers in China who still make deliveries on foot.
"With the development of the economy, highways and roads have now been built. But I, along with many other postal workers, still hike the old routes and slide along zip lines because it allows us to take shortcuts and save time," she says.
"A foreign representative at the UPU meeting asked me which is more important, letters or life. I said both are important. Once the bag of letters is on my shoulder, I consider them a part of my life."
(China Daily 05/26/2011 page20)