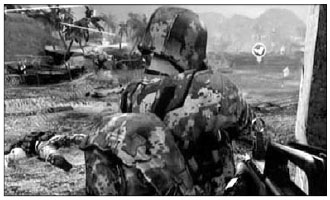 The game-like program is based on real military life. Snapshot From CCTV-7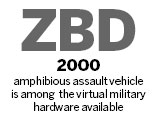 While video games like "America's Army" have been used in military training for years abroad, China's army has lacked a proprietary training tool tailored to its requirements.
The need has now been met by the Nanjing command of the People's Liberation Army (PLA) working in conjunction with Wuxi Giant Interactive Group Inc to produce the new video trainer "Mission of Honor".
Two years in development, the interactive training software has modules to test military knowledge, for single-soldier missions and for online team combat.
The game is based on real military life. In single-player mode, the virtual soldier has to take actions to complete his missions. The team combat module allows up to 32 players in two teams to fight online at the same time.
Many of the weapons and types of equipment now used by the PLA are available in virtual battles, including the Type 92 pistol, Type 89 machine gun, the 96A tank and ZBD2000 amphibious assault vehicle.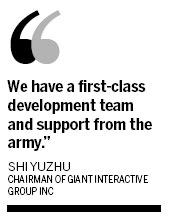 First-person shooter (FPS) games that simulate battle are now widely used for military education and drills in many countries, but the games played by military commands in China were before most often developed by foreign companies.
A PLA daily report on May 13 noted those games could have different military values and might mislead Chinese army officers and soldiers.
As China's first military FPS game, "Mission of Honor" "will bring about more social benefit than just economic value", said Shi Yuzhu, chairman of Giant Interactive.
"We have a first-class development team and support from the army," he added.
With Chinese-language commands and professional tactic skills, the game "looks cool and really hits the mark", said a soldier who tried the demo version of the game.
Because "we can make a good product by revising it over and over again," Shi said the video trainer still needs improvement before it goes into army camps, but it has already attracted the attention of many army officers and soldiers.
"I'm looking forward to the game very much," said Song Maomao, a platoon leader of a troop garrisoned in Beijing. "At present, our entertainment is just some simple video games, chess and cards. The big military video games are all foreign products."
In addition, many FPS game lovers also show keen interest in the software, expecting that it will one day be available in retail stores.
"When the game is sold in shops, I'll meet you guys on the battlefield," said a Web user tagged Woshichibo.
"I hope the game will be a big hit in the market," said another.
But there is no official word on whether the game will have a civilian version for sale.
China Daily
(China Daily 05/25/2011 page17)