Unprecedented power shortages expected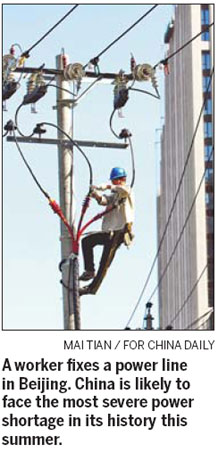 BEIJING - China is likely to face the most severe power shortage in its history this summer, with the electricity shortfall increasing to at least 30 gigawatts (gW) and estimated to peak at 40 gW, officials said.
Power shutdowns reached serious levels in some regions from January to April this year, and some power generation capacity has been shut down because of coal shortages, according to the Xinhua News Agency, citing Tan Rongyao, supervisor of the State Electricity Regulatory Commission.
Tan said the daily maximum power shutdown has reached 9.8 gW, equivalent to the generation capacity of the whole of Chongqing municipality.

Today's Top News
Editor's picks
Most Viewed