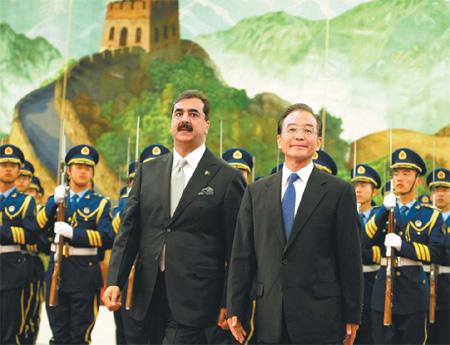 Premier Wen Jiabao holds a welcoming ceremony for Pakistani Prime Minister Yousuf Raza Gilani in the Great Hall of the People in Beijing on Wednesday. Liao Pan / China News Service
All-weather friendship to help Islamabad get through difficulties
BEIJING - Premier Wen Jiabao on Wednesday assured his visiting Pakistani counterpart of China's strong support for its "all-weather partner", which has faced international pressure in the aftermath of the US killing of Osama bin Laden.
"Pakistan has made huge sacrifices and an important contribution to the international fight against terrorism," Wen said when meeting Yousuf Raza Gilani at the Great Hall of the People in Beijing, adding that he hopes the international community will understand Islamabad's efforts.
"Pakistan's independence, sovereignty and territorial integrity must be respected," Wen said.
China was making an all-out effort to support Pakistan and help it "get through its difficulties", Wen said, adding Beijing was encouraging Chinese companies to invest in Pakistan.
Gilani arrived in Shanghai on Tuesday night for a four-day official visit to celebrate the 60th anniversary of diplomatic relations on May 21, as well as the "China-Pakistan Friendship Year".
The visit will also serve to boost trade and investment in infrastructure.
The visit, though planned long before the US raid on May 2 in Abbottabad, Pakistan, that killed the al-Qaida leader, now carries increased significance amid uncertainties in the region.
Following the raid, Islamabad was the focus of criticism in the US for its alleged failure to fight terror, prompting some US legislators to call for a reduction in financial assistance.
Wen reiterated that China and Pakistan will always maintain close ties.
"I wish to stress here that no matter what changes might
take place in the international landscape, China and Pakistan will remain forever good neighbors, good friends, good partners and good brothers," Wen told Gilani.
In response, Gilani told Wen that Pakistan appreciates China's long-term support and assistance.
He noted that China was the first country, after the US raid, to show its support to Pakistan and its people.
On May 2, Foreign Ministry spokeswoman Jiang Yu praised Pakistan for its anti-terror efforts.
The country has been "at the forefront" of the international fight against terrorism, and its government has been dedicated to the cause, she told a regular news briefing, adding that Islamabad's anti-terror measures have been "forceful".
Even before arriving in China, Gilani praised the close ties between the two countries.
"We appreciate that in all difficult circumstances China has stood with Pakistan - therefore we call China a true friend and a time-tested and all-weather friend," he told the media before leaving for China.
The two leaders, after their meeting, officiated at a signing ceremony for three deals on economic and technology cooperation and cross-border banking crisis management.
Gilani is also scheduled to meet President Hu Jintao and speak at Peking University.
Pakistani ministers for defense and interior affairs are accompanying Gilani on the visit.
Sun Shihai, an expert on South Asian studies at the Chinese Academy of Social Sciences, said Wen's remarks will enhance Pakistan's confidence in counter-terrorism operations.
Sun also noted that days before Gilani's China visit, Pakistani President Asif Ali Zardari made his first official visit to Russia and won Russian President Dmitry Medvedev's promise to further cooperate with Pakistan in fighting terror.
The New York Times reported on Tuesday that "Pakistan is using it (Gilani's visit) to hint that China is an alternative source of security and economic aid - a reassuring message for a nation angered and humiliated by the covert American raid that killed Osama bin Laden".
However, Pang Zhongying, professor of Renmin University of China, said there will not be a sharp shift in the triangular relationship among Beijing, Washington and Islamabad. "All of them share common interests in fighting terror," he said.
China Daily
(China Daily 05/19/2011 page1)