Topic: Founder's run for love
Wang Gongquan, founder of CDH Investment, one of the most successful venture capitalists in China, on Monday wrote on his Sina micro blog that he is willing to give up everything he has, money and fame, to run away with his mistress.
"Elopement" is a scene from a movie or romance novel, conjuring images of teenage lovers sneaking out of windows by moonlight. In the real world, people are restricted by moral values and few have the courage to elope with their lovers. The couple's elopement might encourage more to follow suit. It is a story of true love.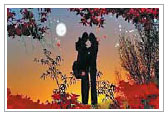 "SKALLY" ON QQ; FOLLOWERS: 196
I wish Wang all the best if he was not married, but he is married. He's a husband. He should take the responsibility for that marriage, even though it's not a good marriage. Eloping with the other woman is a big mistake.
"ZURUI" ON QQ; FOLLOWERS: 36
An insider told me the so-called elopement is just a promotion for Wang and the woman's newly opened company. It's a successful advertorial. Marketing professionals should study the case closely. Promotion lies in everywhere and everything.
"YULEI" ON SINA; FOLLOWERS: 1,495

Topic: Hukou quota slashed
This year's quota for college graduates who will receive Beijing hukou (permanent residency) will be at least one-third less than in 2010, according to the city's human resources bureau. The policy will officially be announced in June.
Even if the quota is decreased, some people who have a solid background can still get Beijing hukou, while real talents may not be able to stay in the city. The key point is the rules for attaining Beijing hukou should be clear and the operation procedures transparent.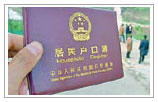 "HR_WATERWALKER" ON SINA; FOLLOWERS: 131
House purchases are restricted, car purchases are restricted, and now the number of people who can stay in the city is restricted. Are all these moves designed to tell people without Beijing hukou that the city doesn't want them?
"AIMOXIAOGE" ON SINA; FOLLOWERS: 43
People long for Beijing hukou because it means a great number of benefits. If each citizen, with or without Beijing hukou, can enjoy the same treatment, will there still be so many people scrambling for the quota? Think about those who on one hand want Beijing hukou and on the other complain about the city's traffic and high prices.
"ZHONGAN JUSHI" ON SINA; FOLLOWERS: 814

Topic: Demolition block
An urgent notice from the Ministry of Land and Resources has called for stricter measures to curb the problem of forced demolitions. The notice ignited a wave of online argument.
Compared with eastern coastal areas (of China), western areas are 20 years behind in development. With tight budgets, western areas are also plagued with redundant personnel in government departments. Authorities can't afford to meet the demands of all landowners, but urban development and expansion is a must.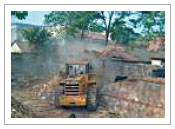 "NINI" ON QQ; FOLLOWERS: 3
Developers hope to minimize costs, while landowners hope to maximize compensation. Conflicts of interest are unavoidable. It's the government's responsibility to solve conflicts. The notice is a progress, but the key is how to implement it.
"DENG LU" ON QQ; FOLLOWERS: 3
People protest demolitions for various reasons: not enough compensation, unwilling to change old lifestyles and loss of income (such as shop owners). However, there is also another possibility: some people want to get rich overnight through demolition.
"XIANG LIPENG" ON QQ; FOLLOWERS: 404
(China Daily 05/18/2011)