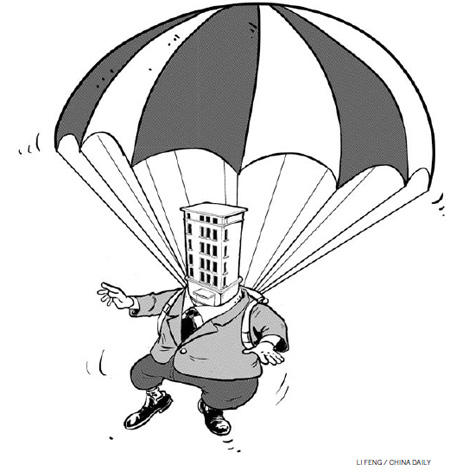 Housing prices in China have risen by 53 percent over the last four years, raising concerns that a bubble has been created in the real estate sector. There is little doubt that there has been a growing speculative component in property markets in many Chinese cities and/or segments, which in turn has pushed up housing prices beyond their fundamentally justified levels.
This leads us to three important questions: First, will the bubble burst? Second, if so, when? Third, how serious may be the implications for the economy?
We dare not answer the second question. But we will venture to give some thoughts on the first and third.
Developments in China's property market are driven by a structural and cyclical component. Ongoing urbanization, rising incomes, limited investment policies and cultural factors favor the property market.
Nevertheless, the price rises in some cities have increasingly delinked from fundamentals. Government tightening measures are targeting these developments, but so far they have had limited impact.
A sustained sharp price correction is not very likely. First, pent-up demand will stay in place. If prices were to drop rapidly by a significant margin (say more than 10 percent on a national scale), potential first-time buyers who so far have stayed away might step in, helping "stabilize" prices again.
Second, foreign investors' interest in China's property market is showing signs of strengthening again, which is another stabilizing factor.
Third, Chinese financial markets are still underdeveloped and individuals especially lack attractive investment alternatives. Thus, investing in residential property remains one of the few investment opportunities for them.
Fourth, household savings rates are still high and inflation rates are expected to slow only moderately from the second half of this year. This bolsters residential real estate assets, too.
Fifth, the outlook for income growth remains positive, and this will help improve affordability.
Sixth, the government's policies to curb rising prices are relatively aggressive, and the focus on affordable housing and development of rental markets, in particular, will cushion the impact on property developers and the construction sector in the medium term.
With regard to the third question - how big the resulting macroeconomic distortions may be - we can say the impact on the domestic as well as the global economies will be considerably smaller than the bursting of the housing bubble in the United States.
Why is that so? There are three simple reasons for that. Housing finance in China is much more reliant on equity than debt. No additional disruptions are to be feared from securities' products. And even if private consumption and private investment decreases China's GDP growth by 2-3 percentage points, it will not push the Chinese economy toward recession.
The risk for the construction industry, however, is of utmost importance for the financial sector as well as the overall economy. Thus, a careful mix of policies, which would slow down demand and bolster supply of (affordable) housing units, is crucial to dealing with the current distortions.
The central government became aware of the possibility of an overheated property market early and reacted quickly. Since the real estate market showed no signs of slowing down last year, the government intensified the tightening measures and implemented a set of stricter policies that became known as the first, second and third rounds of macro-controls.
But there are big problems in enforcing the central government measures at the local level because local governments and officials often have conflicting interests - for example, they have been benefiting (and would continue to benefit) from a booming housing market.
With fears about a possible bubble in the Chinese housing market growing, the government has tightened the regulations. It has banned people meeting certain requirements from buying houses, targeted price control and ordered confiscation of land from real estate developers who have bought it but left it undeveloped for a long time.
The long-awaited property tax, however, has not yet been imposed across the country. Only the municipal governments of Shanghai and Chongqing have implemented a trial property tax scheme from January this year.
Although the first two rounds of macro-controls affected the housing markets across the country only temporarily, the latest measures seem to have had some effects on most of them.
As the central and local governments both have enacted strict policies to slow down the market, we expect the growth in housing prices to be arrested significantly this year - and not only in the top five cities. And although the risk of rapidly falling housing prices has increased, we do not expect a severe crash, yet.
But even the benign slowdown has created a big negative impact on construction and related industries. So a development similar to that in the US or Spain is not very likely to happen in China, for pent-up demand and overall macroeconomic dynamics are still strong, and financing is still comparatively conservative.
The authors are economists with Deutsche Bank Research based in Frankfurt, Germany.
(China Daily 05/17/2011 page9)