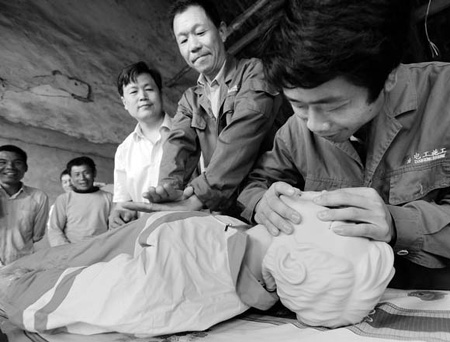 Electricians learn about cardiopulmonary resuscitation techniques in Shangyu, East China's Zhejiang province, on May 11. Electric shock accidents are likely to become more common because of increasing rains in the province. Han Jian / Xinhua
BEIJING - Awareness of what to do in an emergency remains low among Chinese people and only about 1 percent of the population has ever received emergency training, said a top specialist.
Xin Baoshan, director of the Chinese Red Cross National Training Center, made the remarks while talking to China Daily days after the third anniversary of the Wenchuan Earthquake that jolted parts of Sichuan province on May 12, 2008, killing tens of thousands of people.
"Chinese people have a limited knowledge of how to respond in an emergency and know little about first aid, which means many avoidable injuries and deaths are still happening," he said.
Despite growing awareness of the risks as a result of the Wenchuan Earthquake, many people still believe emergency response skills should only be practiced by professionals and not themselves, he said.
Because of the size of the country, it is often impossible for professionals to arrive on time and ordinary local people should be ready to respond, he said.
Of the 1 percent of Chinese people who have had some emergency response training, most got it through the Red Cross training center and its branches across the country.
"Most of them were trained at schools or in their workplaces in big cities such as Beijing and Shanghai," he said.
Yuan Lezhi, a middle school student in the capital, told China Daily that his school organizes a fire drill each year but he said he still has no idea what he should do in an emergency.
"We are just told to leave the building via the emergency exit stairs if we hear the fire alarm," the 14-year-old said.
Xin said such practices fall short.
"That's far from adequate to be properly prepared," he said. "We've seen that, in earthquakes, more people get hurt by doing the wrong thing than from the quake itself."
He urged more government investment and legislation in a bid to redress the situation and pointed to countries such as the United States, where such training is compulsory for many people and especially among school instructors, drivers, miners and even journalists.
"That would help people save lives and substantially reduce economic losses from disasters," he said.
Each year, about 1.2 million emergencies take place on the Chinese mainland, causing at least 200,000 deaths and 1.7 million serious injuries, official statistics show.
"In truth, many of the tragedies and economic losses could be averted if people on the site are well equipped with emergency response know-how," he said.
Francis Markus, from the East Asia area of the International Federation of Red Cross and Red Crescent Societies, told China Daily that such training allows people to gain greater skills in taking care of themselves and others and lets them build confidence in the event that an unforeseen emergency befalls them.
"Our approach is to train people in communities to promote knowledge and skills in emergency response and first aid. It's important to give communities these skills for their long-term resilience," he said.
China Daily
(China Daily 05/17/2011 page4)