Following his successful Beijing debut seven years ago, Italian tenor Andrea Bocelli will return with two concerts named The Magic of Love.
As a part of his 2011 Asian tour, Bocelli has invited New Zealand pop classical soprano Hayley Westenra as a guest performer.
The 53-year-old is set to sing scores from operas in the first half of the concert, such as La Traviata and Madama Butterfly, and classic songs like O Sole Mio and Amazing Grace. To mark the 150th anniversary of Italy's unification, Bocelli will perform classic Italian folk songs in the second half.
The pop tenor, with 20 albums and 70 million sales worldwide to his credit, made his China debut in Shanghai, in 2003.
"I am a much more mature singer and experienced at interpreting those classic songs after all these years. My Neapolitan accent is much more genuine," he says.
As for the title of the tour, The Magic of Love, Bocelli explains love is the most beautiful human emotion and he communicates this feeling to the audience through his singing.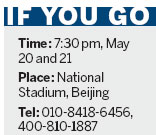 "Those beautiful songs have touched me and influenced my life. I want to share the love," he says.
To prepare for his Asian tour, Bocelli invited the 24-year-old Westenra to rehearse at his home. The pair are expected to duet on Time to Say Goodbye, The Prayer and Dell' Amore Non Si Sa.
He is also expected to include some traditional Chinese folk songs for Beijing audiences.
"I've cooperated with some great Chinese musicians, such as Lang Lang and Song Zuying. Their professional and sincere performances impressed me very much," he says. "The Chinese language is very unique and hard to learn. When I cooperated with Song, I just hummed along with her."
He adds there will be a concert called Bravo China at the Theater of Silence, in Lajatico, a small town in Pisa, Italy, in 2011. He will host the show, along with Chinese musicians, such as Dai Yuqiang and Lang Lang.
"Lang Lang taught my two kids to play piano when he performed in Italy. My family (members) are fans and we have all of his albums," he says.
Bocelli has always sought challenges and has worked with a variety of musicians, such as Italian rock star Zucchero.
"The difference between classical music and other music genres, such as pop, lies in the way of expressing the singer's emotions," he says.
"For example, (when) singing opera, the performer has to keep a distance from the audience, but pop music is like whispering in the listeners' ears."
He also points out that combining pop with classical music attracts younger audiences.
Born in Tuscany, near the city of Pisa, Bocelli was diagnosed with congenital glaucoma and aged 12 was completely blinded after an accident playing soccer. His family was not particularly musical, but they encouraged him to be.
"I believe we all have a destiny that we can perceive. Mine was singing. I always sang for my friends at school and my neighbors," he says.
In 1992 he recorded Miserere with the Italian rock star Zucchero Fornaciari, who had written the music for Pavarotti. In 1994, Bocelli won first prize at the annual San Remo music festival, which is watched on TV by one in three of Italians.
"I waited a long time for people to appreciate my talent. I've doubted myself and lost confidence," he says. "With their help, I stuck to my dream. I know good luck is very important for a singer but I believe that strong determination is much more valuable."
Currently, Bocelli lives in Tuscany's Forte Dei Marmi, where the sunshine helps with his allergy.
"My house is near the sea. I like staying at home with my family, taking walks and riding horses. I enjoy a regular life and I'm close to nature. It helps to create more music and also protect my voice," he says.
"I have a pair of ears, which can remember songs quickly. There are endless musical sources in my hometown which inspire me."
China Daily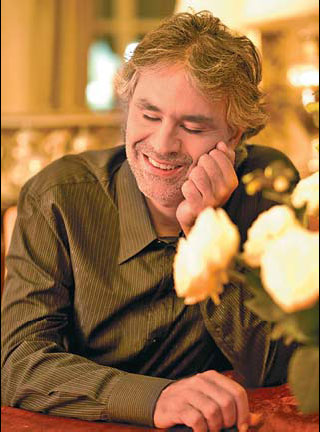 Italian tenor Andrea Bocelli will thrill Beijing fans with his classical and popular songs. Provided to China Daily
(China Daily 05/17/2011 page19)