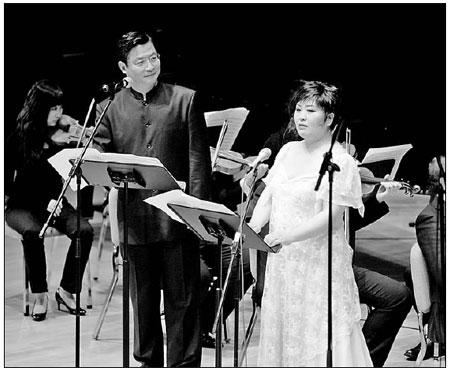 Gong Dongjian (left) and Yang Guang (right) perform a duet from Dr Sun Yat-sen at a fundraising concert for Opera Hong Kong, in March. Photos Provided to China Daily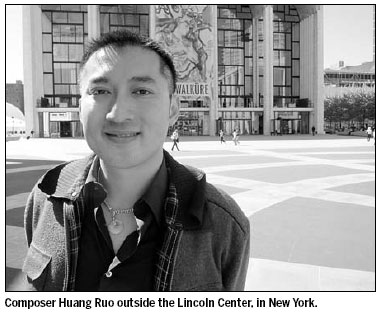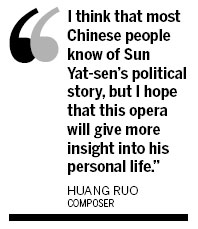 The opera Dr Sun Yat-sen will focus on the personal side of the political leader, says its composer Huang Ruo. Kelly Chung Dawson reports.
Five months before the world premiere of acclaimed Chinese composer Huang Ruo's new opera, Dr Sun Yat-sen, New York audiences will enjoy a preview of the production's first act at the weekend.
Commissioned by Opera Hong Kong and co-presented with China's National Center for the Performing Arts (NCPA), the opera will premiere first in Beijing in September and later in Hong Kong in October in celebration of the 100th anniversary of the 1911 Revolution, which led to the founding of the Republic of China, when Sun and other leaders helped to overthrow the last imperial dynasty.
The 25-minute New York preview is part of New York City Opera's Vox: Contemporary American Opera Lab, held at New York University (NYU). Starring Gong Dongjian (bass), Yang Guang (mezzo-soprano), Zhang Yingxi (tenor) and Wang Xi (soprano), Huang's production will feature scenes from the first act of the opera, which is the composer's first effort in the genre. The purpose of the production is to give insight into a political figure who has until now been mostly celebrated for his public persona, Huang says.
"I think that most Chinese people know of Sun Yat-sen's political story, but I hope that this opera will give more insight into his personal life," he says. "He was a passionate, caring individual, in addition to a good leader. My goal is to make people see him as more human, a flesh-and-blood kind of person."
To this end, librettist and playwright Candace Mui Ngam Chong went to great lengths to research Sun's personal life. There was a great burden to be accurate with such a public figure, Huang says.
Opera Hong Kong's artistic director Warren Mok also worked hard to push the project forward, Huang says.
In her research, Chong came across a story about a wedding gift given to Soong Ching-ling (Sun's wife) by her father, Charlie Soong, who despite his ardent political support for Sun opposed the marriage and yet must have ultimately given the union his blessing to have presented his daughter the gift, Huang says. Chong was inspired by the story, basing the plot of the opera on this detail, he says.
The opera will feature dramatic spoken interludes in English, but the libretto will be sung in Chinese in both versions of the opera.
The first version, which will feature a Western orchestra, will premiere on Sept 30 at Beijing's NCPA and run through Oct 3. It will be directed by Chen Xinyi and conducted by Li Xincao, with set design by Gao Guangjian and costumes by Blanc de Chine.
The second version, featuring a Chinese orchestra, will premiere on Oct 13 at the Hong Kong Cultural Center and run through Oct 16. Yan Huichang will lead the Hong Kong Chinese Orchestra.
Huang, 35, chose to do two versions of the opera because he is interested in experimenting with the ways in which Eastern and Western influences can affect a composition, he says.
"When the vocals are accompanied by different orchestras they will reflect different qualities," Huang says. "In my work I like to use the word 'integration.' My goal is not for people to pinpoint 'That part is Western, that part is Eastern' - for me, that's only the surface. I want to blend and meld the influences together to create something new, but I don't consciously try to use Eastern and Western elements when I'm composing. I write what I write and whatever comes out will reflect my personality and influences."
Huang's father was also a composer, and as a result he began to learn piano and composition at the age of 6. In addition to this training, among his influences are his memories of watching Hainan operas with his grandmother as a child, he says. Born in South China's Hainan province in 1976, Huang was familiar with traditional Chinese music and opera but was only exposed to Western opera when he moved to the United States at the age of 18 to pursue a music education at the Oberlin Conservatory of Music and Jiulliard School in New York, he says.
"At first I was afraid of Western opera," he says. "It felt too massive and wide-ranging, with French opera, German opera, and so on. But in the end, I thought of it as simply singing theater in different languages, with each type of opera reflecting its own culture. In this context, Chinese opera is also part of the larger opera repertoire. That drew me closer to the genre; I suddenly saw both common threads and contrasts, and was very inspired."
In 2010 Huang's composition The Yellow Earth was awarded first prize in the Celebrate Asia! competition, and was later performed by the Seattle Symphony.
Yang Guang, who won BBC's Singer of the World competition in 1997, and who will play Charlie Soong's wife Kwei Twang Nyi (Ni Guizhen), says that Huang has been very open-minded in their preparations for the opera. When she took issue recently with certain syllables in the libretto wording, Huang took her suggestions, she says.
"He listens to us," she says. "I knew his work before, and I've always liked him. His work has ancient Chinese elements, but is also incredibly grounded."
Huang will work next on a project for a vocal ensemble in Copenhagen, Denmark. He will compose an opera there too. He also has a viola concerto he needs to finish, even though he would dearly love to take a vacation, he says with a laugh.
He speaks with great admiration for the composer Zhou Long, who recently won a Pulitzer Prize for his work on the opera Madame White Snake.
"As a Chinese composer, I felt so happy to see this acknowledgment of other composer from a different culture who has also made his home in the US," he says. "As a younger generation Chinese composer, it's good to see colleagues and teachers getting acknowledgment. It made me feel that anything is possible in this country, as long as the hard work is done."
(China Daily 05/13/2011 page20)