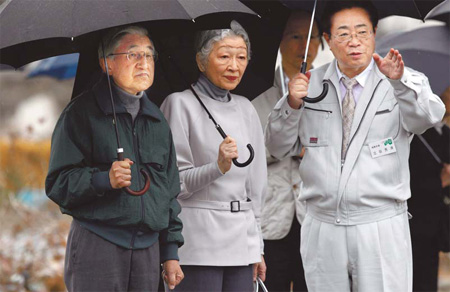 Soma City Mayor Hidekiyo Tachiya (right) talks with Japan's Emperor Akihito and Empress Michiko about the damage in Soma, Fukushima prefecture, about 50 kilometers from the crippled nuclear power plant on Wednesday. Issei Kato / Reuters
Nearly 100,000 Fukushima residents lack permanent homes
FUKUSHIMA, Japan - Two months after Japan's quake and tsunami catastrophe sparked a nuclear disaster, Emperor Akihito and Empress Michiko visited evacuees from the radiation zone on Wednesday.
Tens of thousands have been forced from their homes in a 20-kilometer no-entry area around the Fukushima Daiichi nuclear plant, where an emergency crew is still struggling to stabilize the stricken reactors.
The emperor and empress visited evacuees near Fukushima City northwest of the stricken plant, and then the coastal town of Minamisoma north of the plant.
Like much of Japan's northern Pacific coast, Minamisoma was shattered by the massive March 11 tsunami, sparked by a magnitude-9.0 seabed earthquake, that crashed into the fishing port and wiped out homes and lives.
By the latest national police count, Japan's worst post-war calamity killed 14,949 people and left 9,880 others missing.
The imperial couple previously visited tsunami survivors in nearby prefectures, but Wednesday's trip was their first visit to the area directly affected by the world's worst nuclear accident since Chernobyl 25 years ago.
Hundreds of well-wishers cheered and waved as the 77-year-old emperor and the empress, 76, arrived at Fukushima airport by Self-Defense Forces aircraft before changing to a helicopter to visit the first evacuation shelter.
Nearly 100,000 Fukushima prefecture residents still remain without permanent housing, and 60,000 of them live in shelters such as public gyms and schools, enduring cramped and trying conditions and with little privacy.
Many have fears about the long-term exposure to the radiation still wafting out of the plant some 60 km away, and many parents ban their children from spending too much time outdoors.
The local farm and fishery sectors have been devastated, as some produce has been banned outright by Japan and other countries, and other foods, although officially declared safe, have been shunned by worried consumers.
Looking back at two difficult months, local newspapers have voiced the region's frustration over the slow provision of help for its people, many of whom have lived with no income and almost no personal belongings.
The Fukushima Minyu Shimbun, a local newspaper, said residents are worried about the uncertain pace of decommissioning the nuclear plant.
AFP-China Daily
(China Daily 05/12/2011 page10)