16 Libya migrants drown at sea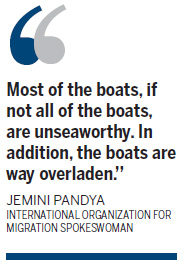 ROME - Hundreds of people and 16 dead bodies were pulled out of the sea near the tiny southern Italian island of Lampedusa on Sunday, highlighting the need for increased attention to the growing refugee crisis from war-torn North Africa and again bringing immigration issues to the forefront in Italy.
An overcrowded ship carrying up to 600 people trying to flee Libya sank on Friday just outside the port of Tripoli, UN High Commissioner for Refugees (UNHCR) spokeswoman Laura Boldrini said.
Aid officials were still trying to confirm the fate of those people and said that around 100 people were still unaccounted for.

Today's Top News
Editor's picks
Most Viewed