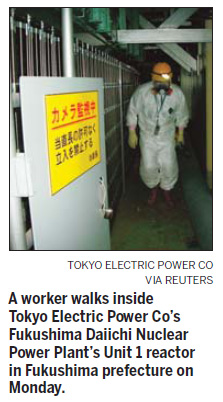 TOKYO - Japan on Monday announced a tiny radiation leak at a nuclear reactor on its west coast, while another power company is expected to close a nuclear plant in central Japan due to its vulnerability to a major quake.
Electricity wholesaler Japan Atomic Power said it had stopped the leak after a minute amount of radiation was found in gas that escaped from the Tsuruga nuclear plant on Sunday. It said there had been no impact on the environment.
Japan Atomic Power said it was investigating the cause of the leak, which is bound to increase public unease over the troubled nuclear industry in the wake of the massive earthquake and tsunami that crippled the Fukushima nuclear facility in March.
Japanese media reports said the country's third biggest electricity producer, Chubu Electric Power Co, was expected later in the day to decide to temporarily shut one of its nuclear plants in central Japan until it can build a tsunami wall and take other steps to improve safety.
Prime Minister Naoto Kan has urged Chubu to close the Hamaoka plant, about 200 kilometers southwest of Tokyo, signaling a potential shift in energy policy following the worst nuclear crisis in 25 years.
Experts of Japan's government put the chance of a magnitude-8.0 quake hitting the Hamaoka area in the next 30 years at 87 percent, which has raised questions over why it was built there in the first place.
The government has already evaluated Japan's 54 reactors for quake and tsunami vulnerability after the March 11 earthquake and tsunami triggered the world's biggest nuclear crisis since the 1986 Chernobyl disaster in northeast Japan.
Atomic power will remain a major part of Japan's energy policy, a Japanese government official said on Sunday.
Deputy Chief Cabinet Secretary Yoshito Sengoku also said no reactors other than the three units at the Hamaoka power plant in central Japan would be shuttered over quake and tsunami concerns.
There is "no need to worry" about other reactors, Sengoku said. "Scientifically, that's our conclusion at the moment."
While the Japanese government is now under pressure to review its energy policy, the Fukushima nuclear power plant run by Tokyo Electric Power Co is still leaking radiation and efforts to restore the cooling functions of reactors are going on.
According to NHK, preparation work began after workers opened the door of the No 1 reactor on Sunday. They stayed inside the building to measure the radiation level and remove a special tent for air purification and vent pipes early Monday.
AP-Reuters-China Daily
(China Daily 05/10/2011 page12)