Sustainability through renewable energy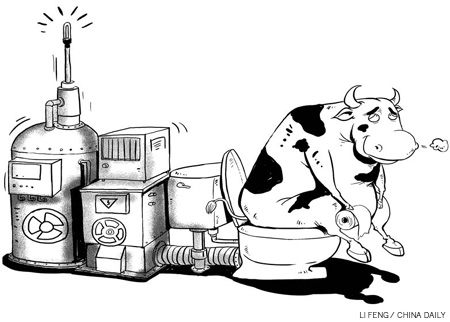 China's 12th Five-Year Plan (2011-2015) shows that it wants to become the world's future green superpower. The implementation of ambitious ecological policy targets will contribute to the overarching goal of reducing carbon dioxide emissions per unit of GDP by 40 to 45 percent by 2020 from the 2005 level.
The targets include increasing the amount of non-fossil energy by 15 percent, saving energy in buildings, increasing energy efficiency in transportation and industry, preventing environmental pollution from urban, agricultural and industrial sources, and extending the principle of circular economy in energy and material management.
With its still very low average ecological footprint of about 2 acres for one person's sustenance, China is in a good starting position compared to the United States, which has an average of 24 acres. But the tendency to copy the "American way of life" with its potential social and ecological disadvantages is strong among Chinese people, a path they have to steer clear of.

Today's Top News
Editor's picks
Most Viewed