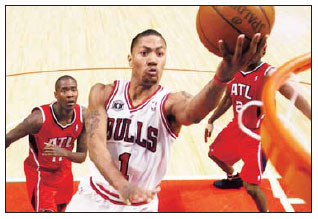 LINCOLNSHIRE, Ill. - Right from the start, Derrick Rose wondered why he couldn't be the MVP. It turns out, nothing could stop him.
Rose officially became the NBA's youngest MVP on Tuesday and joined Michael Jordan as the only Bulls player to win the award, which was no surprise given his spectacular season and Chicago's leap to a league-leading 62 wins.
He has a way to go before he catches Jordan, who won five MVPs and led the way to two championship three-peats, but he sure is off to a good start.
"I'm not even touching that man right there," Rose said. "I'm far away from him. If anything, it would be great to be close to him. This is a different team, a different era."
In his third year, the dynamic point guard led the Bulls to their best season since the championship era.
The 22-year-old Rose got 1,182 points and 113 first-place votes from a panel of media voters, supplanting Wes Unseld as the youngest to win the award with a runaway win. Orlando's Dwight Howard (643 points) finished second, Miami's LeBron James was third, the Lakers' Kobe Bryant was fourth and Oklahoma City star Kevin Durant finished fifth.
A product of Chicago's South Side, Rose established himself as one of the top players in the league after going from Rookie of the Year to All-Star in his first two seasons. He took another step this year with one of the best all-round performances by a point guard.
He averaged 25 points and 7.7 assists while leading Chicago into contention for its first championship since the Jordan-Scottie Pippen era. For all the groaning over the Bulls missing out on James, Dwyane Wade and Chris Bosh in free agency, they did quite well for themselves anyway.
Rose showed up to training camp openly wondering why he couldn't be MVP. Then he backed it up.
"It really just came out," Rose said. "That's the way I thought at the time. I put a lot of hard work into my game, especially during the summer ... I dedicated my whole summer to basketball. Even though it was tough, I did it."
Rose was a picture of humility during the news conference. He thanked everyone from the fans to his teammates, coaches and management, and he choked up when he mentioned his mom, Brenda Rose, and older brothers seated in the front row.
At one point, he looked at her and paused.
"Just thinking how hard she works," he said. "Those are hard days. My days shouldn't be hard because I love what I'm doing. That's playing basketball. You keep me going every day and I love you."
Rose ranked seventh in scoring and 10th in assists, making him the only player this season in the top 10 in both categories. The only other Bull to do so was Jordan in 1988-89, when he led the league in scoring (32.5 points) and finished 10th in assists, according to information provided by the Elias Sports Bureau.
Throw in a 4.1 rebounding average, and Rose joins another elite group. He's the seventh player in league history to average at least 25 points, 7.5 assists and 4.0 rebounds, along with Jordan, Oscar Robertson, Jerry West, Larry Bird, Wade and James, according to Elias.
"We all knew how good he could be," veteran forward Luol Deng said. "It's a big surprise for all of us how quick he got there. We knew he was going to get there; we said that from the start. He's just a hard worker, a humble kid. He's really out there just to win games."
Associated Press
(China Daily 05/05/2011 page22)