Hainan holiday costs soar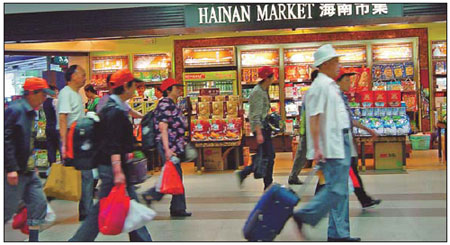 Tourists arrive at Haikou airport. Duty-free policies have boosted the demand for tourism in the island province of Hainan. Shi Yan / for China Daily
SHANGHAI - The forthcoming Labor Day holiday and a duty-free policy that came into effect on April 20 have sent the cost of a holiday on the island province of Hainan soaring by 30 percent.
"There has been a surge in the price of package tours to Hainan," said a sales representative surnamed Zhang at the Shanghai branch of the travel agent Spring International.
"The five-day package tour is usually about 2,800 yuan ($429) for each person during the regular season but it has risen to 3,100 yuan during the Labor Day holiday."
"The rise in traveling costs has been caused by high demand, as many people combine the three-day holiday with their annual leave. So the price of flights and accommodation have rising accordingly," said a staff member at Shanghai's Jinjiang Travel Company.
According to Ctrip.com, an online flight-reservation agency, flights from Shenzhen to Sanya, a luxury resort on the island, on Friday and Saturday are all being sold at full price.
The Shenzhen Daily newspaper reported that the price of package tours from Shenzhen to Sanya has increased by 30 percent. The price of a three-day package tour increased from 1,750 yuan for each person to 2,300.
The four-star Golden Palm Hotel said that its average room price rises by around 200 yuan during the holiday and that up to 90 percent of its rooms have already been booked.
"There is an average increase of about 200 yuan for each room," said a press officer called Nie at the Sanya Yalong Bay Holiday Inn Resort. "The average room price before the holiday is 1,050 yuan."
"More than a half hotel rooms have been booked, an increase of about 50 percent compared with the previous year. This can mainly be attributed to the duty-free shopping policy," she added.
Many travel agents said they have also designed special travel routes, which highlight duty-free shopping, to lure customers.
The policy allows tourists who leave the island for inland to purchase products in duty free shops. Eligible tourists can shop in duty free shops twice a year, and the maximum value of shopping should be no more than 5,000 yuan on each occasion.
"This is very convenient tour package. I don't need to buy cosmetics in Hong Kong separately," said Shanghai office worker Sophia Xu.
China Daily
(China Daily 04/28/2011 page13)
Today's Top News
Editor's picks
Most Viewed