Expospecial :Europe's fashion capital plays host to major suppliers from the East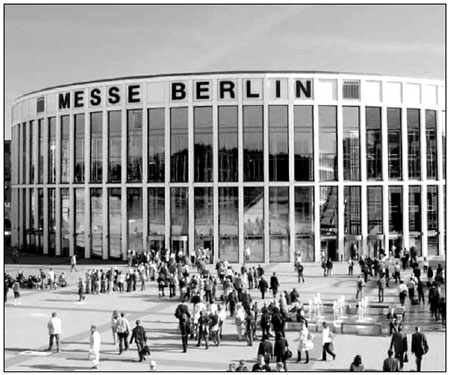 Messe Berlin exhibition grounds in Germany Provided to China Daily
The Asia Apparel Expo is a new sourcing venue, which builds on the strength of its clothing business relationships gained over the past 20 years, to connect Asian suppliers with European brands.
It will be held Feb 21 to 23, 2012, at the Messe Berlin, in Berlin, Germany.
This new fair will draw Asian manufacturers and suppliers from the apparel industry.
And it is designed for Western and Eastern European clothing businesses to source, compare, and select from these experienced and highly competent manufacturers, right in the heart of the European clothing industry.
It is also designed to increase cooperation between Asia's apparel industry and similar industries of other countries and regions.
Visitors can get a look at the products of reliable, export-experienced suppliers: men's wear, women's wear, kids wear, sportswear, lingerie, swimwear, denim clothing, industrial wear fabrics, embellishments, laces, buttons, zippers, labels, and many other clothing accessories.
The countries represented will include China, Korea, Vietnam, Indonesia, India, Pakistan, Sri Lanka and Bangladesh.
Berlin is now re-establishing itself as a key fashion capital, and, when we combine this with Asian manufacturers who lead the world in investment in the apparel and related industries, and in experienced labor, it bodes well for this very important industry event.
The Asia Apparel Expo-Berlin will be jointly organized by Kenfair Exhibition (Hong Kong) Ltd, Guangzhou Grandhub Exhibition Co Ltd, and Huiyuan Int'l Commerce and Exhibition Co Ltd.
For more information, please visit www.kenfairhk.com
(China Daily 04/27/2011 page14)
Today's Top News
Editor's picks
Most Viewed