Increase in labor and raw material costs eat into profit margins
BEIJING - Chinese exporters are confronting a decline in growth as they are pinched by external and internal pressures, two government reports said.
China's export growth could plunge to 20 percent in 2011, from 31 percent in 2010, while total imports could surge by 25 percent, the Development Research Center, a think-tank under the State Council, said in a report on Monday.
The country had a trade deficit of $1.02 billion in the first quarter, the first quarterly deficit in seven years. Import prices surged by 14.2 percent year-on-year and export prices rose by 9.5 percent in the same period.
"The imbalance between the import and export prices has reflected the dilemma that Chinese exporters are facing: rocketing cost pressures and little say in pricing," said Zhang Monan, an economics researcher with China's State Information Center.
The nation's exporters are seeing a thinner profit margin caused by surging commodity prices in the global market as well as rising labor costs and the appreciation of the yuan, according to a Ministry of Commerce report on the annual trade outlook.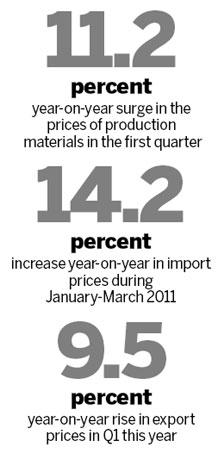 The price of production materials in China surged by more than 11.2 percent year-on-year in the first quarter, boosted by commodity price increases in the global market and salary increases of 20 to 25 percent in 12 provinces and cities in the first quarter, following similar moves in 30 provinces last year, it said.
Moreover, the central bank's tightening of monetary policies and the appreciation of the yuan have also put greater pressure on export companies, it said.
According to the report from the Development Research Center, the trade surplus will continue to narrow in 2011 and is likely to plunge to $140 billion in 2010 from $183.1 billion last year.
Consequently, the full-year trade surplus is likely to narrow to about 2 percent of the GDP from last year's 3.1 percent, it said. A decline in the trade surplus will lessen pressure on China for the appreciation of the yuan, Zhang said.
He Weiwen, a trade expert at Southwestern University of Finance and Economics, said that given rising inflation, currency appreciation should be handled cautiously because it is not only an issue that concerns company profits but also relates to jobs and economic stability.
"The average profits earned by the Chinese export companies have been extremely low, with some companies even bordering on going out of business, which would lead to a large job losses," he said.
He said it's vital for Chinese companies to transfer from processing to higher-end supply businesses by offering more value-added products, so they can also gain more influence in the international pricing system.
Many Chinese companies have lowered export targets to counter the sluggish global market by increasing domestic market demand.
Shang Yugui, a spokesman of the Great Wall Motor Co Ltd, a major car exporter, said there is no doubt that costs such as steel and labor are increasing.
The company has lowered its export target to 30 percent - it used to be more than 45 percent of its sales before the financial crisis, but declined to 20 percent of sales in 2010.
"Supplying high quality products is the only solution for success overseas," Shang said, adding the company plans to double its research and development team to 10,000 engineers in the next five years.
China Daily
(China Daily 04/26/2011 page14)