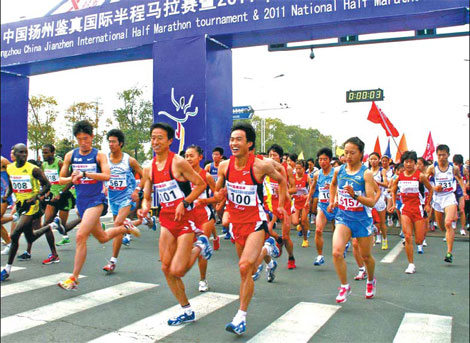 Runners go through the starting line at the Yangzhou Jianzhen International Half Marathon on Sunday morning in Yangzhou, Jiangsu province. Deriba Ejigu of Ethiopia won the men's title, while his compatriot Mare Dibaba Hurssa crowned the women's. Cui Jiaming / China News Service
YANGZHOU, Jiangsu province - Ethiopians dominated Yangzhou Jianzhen International Half Marathon Tournament in perfect running conditions on Sunday with Ethiopian Deriba Merga Ejigu finishing the race in an hour, a minute and 10 seconds while compatriot Mare Dibaba Hurssa breaking the tape first in the women's race in 01:09:41.
The tournament, awarded the only silver label race in China by the International Association of Athletics Federations (IAAF) last year, attracted more than 25,000 runners, including 230 foreigners, to its sixth edition. Neither of the 2010 winners, Moroccan Ahmed Baday nor Nina Rillstone of New Zealand, competed in this year's race.
Temperatures were ideal at 12 C and a brisk tailwind was behind the runners, who took a course from the city's east suburb 21 kilometers to the destination of Yangzhou Museum.
Ejigu said Yangzhou is a perfect running city and added that he "looks forward to coming back next year" despite being unsatisfied with his performance.
"Actually, I am not in my best form this time. I usually run better. But I am happy to run here for the first time. The weather condition is comfortable for running and the cheering from the crowds beside the runway is pretty encouraging," said Ejigu, who captured the New Delhi half marathon title in 2008 with a personal best of 00:59:15. The time ranks 20th in the IAAF world top result ranking.
Stephen Mokoka from South Africa and Zimbabwean Wirimai Juwawo took second and third in the men's race while Kenyan Susan Tanui finished second among women runners.
All the top three male runners broke the tournament's record of 01:01:48 in a familiar show of African dominance in long-distance running.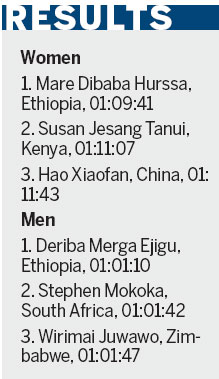 "All of us practice very hard every day, that's why we are good at the event. I have participated in many races in other countries, but Yangzhou impressed me a lot for its beautiful scenery," said Tanui.
Tanui's coach, Stephen Bett, echoed her sentiments, saying "tough training session contributed more than born physical gifts to African's flourish in long-distance running".
The only Chinese athlete on the podium was Hao Xiaofan, who clinched third place in the women's race with a time of 01:11:11.
Hao said she has trained in Yangzhou for six years and said the event keeps improving.
"The event's organizing work has caught up the world standard year by year. More and more high-profile athletes come to run and that's beneficial for us to level up," Hao said.
In addition to the elite competition, the organizing committee added a 10-km category this year for amateurs.
Running has become a major sport for Chinese to keep fit in China's metro cities in recent years and several marathons have been held nationwide, including Beijing, Shanghai and Xiamen.
Amid the huge crowd marching for the 10-km race, both gray-haired elderly runners and even toddlers showed up for the event.
China Daily
(China Daily 04/25/2011 page24)