How Asia can grow but in a sustainable way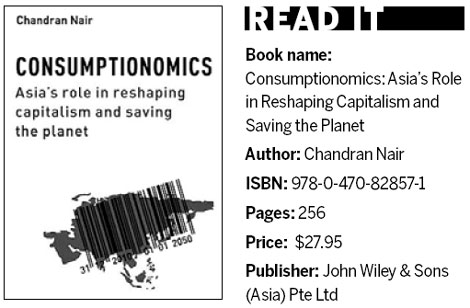 Book review | Chandran Nair
Consumptionomics tackles head-on what is certain to prove to be the most controversial political challenge of the next two decades - the need for Asia to challenge the conventional wisdom about markets and economic growth as promoted by the West, in which consumption has been the fuel that drives the engine of global capitalism, much to the detriment of our natural environment.
The recent financial crisis has seen the West's leading economists and policy makers urging Asia to make a conscious effort to consume more and thereby help save the global economy.
This is a view shaped by conventional wisdom, which conveniently refuses to acknowledge both the unpleasant effects of consumption and the limits to growth.
If Asians were to achieve consumption levels taken for granted in the West the results would be environmentally catastrophic across the globe.
Moreover, it would have significant geopolitical effects as nations scramble for diminishing resources. Asian governments and leaders find themselves at a crossroads.
They may either continue on the current, unsustainable path of Western-style consumption-led capitalism, disregarding the evidence, or they may realize that they hold the unenviable responsibility of leading the world to a more sustainable path.
The solutions will entail making sensitive political choices and adopting certain forms of government to effect such a fundamental change of direction.
This will all fly in the face of current ideological beliefs rooted in free market capitalism.
But if Asia is willing to take on this responsibility, it will help to save the planet while reshaping capitalism.
The book - Consumptionomics: Asia's Role in Reshaping Capitalism and Saving the Planet - gives a new and provocative approach to capitalism, economics and the way that Asia will shape both its own future and that of the world in the 21st century.
China Daily
(China Daily 04/25/2011 page17)
Today's Top News
Editor's picks
Most Viewed