Number of accountants 'needs to rise'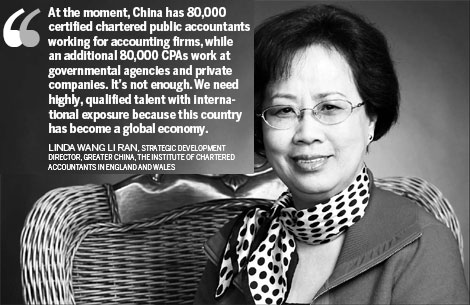 Finance profession needs 10 years to be on a par with standards in US
BEIJING - While the Chinese economy continues to be robust, the country's economic backbone - the accounting and finance sector - is at a critical juncture for its workforce.
Linda Wang Li Ran, strategic development director, Greater China, at The Institute of Chartered Accountants in England and Wales (ICAEW), said there are not enough professionally trained and internationally certified chartered accountants in the country to take on multi-faceted challenges, especially when the nation has achieved a global economic status at a rapid pace.
A gap of 10 years
"It will take the accounting and finance profession in China more than 10 years to be on a par with the standards in the United States or the United Kingdom," she said.
A respected veteran with 18 years of solid track record at the Chinese Institute of Certified Public Accountants (CICPA), Wang, who is to retire in summer this year, was roped in by ICAEW two months ago to help raise the leading British accountancy body's profile and further enhance working relationships with universities and other stakeholders in China.
Seen as an effort to upgrade and nurture talent and develop future leaders in China, her three-year work contract at ICAEW is already challenging.
"The problem is not many Chinese people know about ICAEW, a world-class professional accountancy body. My challenge is to get the ICAEW name to be more visible in the market.
"We see partnerships with universities as a perfect strategy to nurture young minds and to spot and nurture talent at an early age to prepare them for global careers," Wang said.
Language challenge
The lack of a good command of the English language slows down the effort to speed up the number of certified chartered accountants in the country, she said, as all exams conducted by ICAEW are in English.
Another major challenge is the perception among Chinese parents, students and employers that a degree is more valuable than an industry qualification.
"Anyone with ACA (Associate Chartered Accountant) certification can easily land jobs at any company or with the top four (accountancy firms Deloitte, KPMG, Ernst & Young and PricewaterhouseCoopers). By the way, this is not a sales pitch."
China's current workforce in the accounting and finance sector suffers from a huge gap between those who are highly qualified and those without proper qualifications, who lack English language skills and have a limited worldview, she added.
Wang believes that she'll be able to see some results in three years.
ICAEW's target
In its five years in China, ICAEW has produced a mere 51 graduates out of 500 students. In 2011, ICAEW in China aims to have 160 new students with 70 of its existing students taking the final exam.
"We want quality, not quantity," she said.
ICAEW has formed a partnership with Tsinghua University to offer external exams for students majoring in accounting or finance to obtain the prestigious ACA industry qualification, on top of their degrees.
"At the moment, China has 80,000 certified chartered public accountants (CPAs) working for accounting companies, while an additional 80,000 CPAs work in governmental institutions and agencies and private businesses. However, it's not enough for the current demand of the fast-growing economy.
"We need highly, qualified talent with international exposure because this country has become a global economy," she said.
Although China has adopted international accounting standards, Wang said the lack of talent hampers the country's effort in liberalizing its economy.
With per capita income doubling every seven years in China, it has created an economy that changes more in one year than a developed economy changes in five years.
She said because of this dynamism, it has profound consequences for talent management and the development of sustainable competitive advantage.
There are more than 136,000 ICAEW chartered accountants, holding the ACA qualification, in 160 countries. More than 200 ICAEW members are based on the Chinese mainland and at least 3,000 in Hong Kong.
China Daily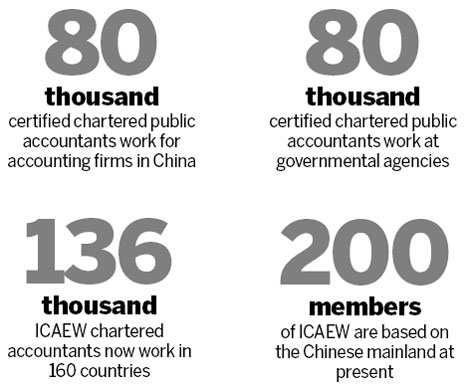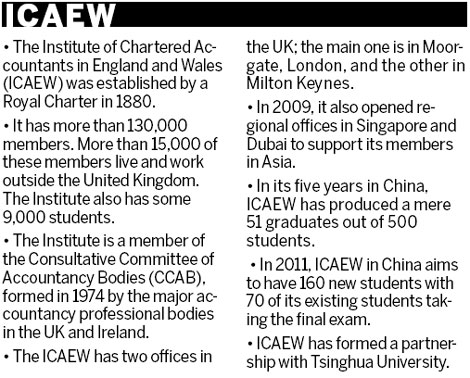 (China Daily 04/25/2011 page17)
Today's Top News
Editor's picks
Most Viewed