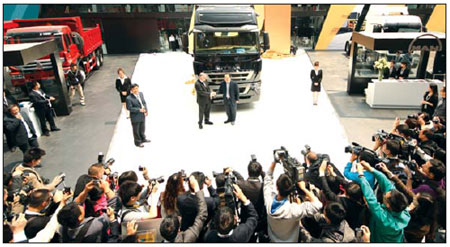 CEO of MAN SE Georg Pachta-Reyhofen and Sinotruk Chairman Ma Chunji unveil the new truck during the Shanghai show. Photo Provided to China Daily
Heavy-duty Sitrak to meet needs in emerging markets
SHANGHAI - To boost its presence in the global truck market, leading domestic manufacturer Sinotruk launched a new brand co-developed with German heavy commercial vehicle maker MAN SE at the ongoing Shanghai auto show.
It also unveiled the new brand's first model - the Sitrak T7H - a heavy-duty truck that is set to begin production at the end of this year in Jinan, Shandong, the headquarters of Sinotruk.
The company said domestic sales of the Sitrak T7H will kick off in the first half of next year and export is expected to begin in the later half.
It estimates that by 2018, sales of Sitrak will hit 200,000 units, among which 160,000 will be sold in China while the remaining in overseas markets.
Currently Sinotruk mostly sell products to developing regions such as the Middle East, Southeast Asia, Africa and South America, according to Ma Chunji, the company's board chairman.
With the new Sitrak trucks, Sinotruk could extend its sales network to developed countries, Ma said.
In 2009 MAN bought 25 percent shares in Sinotruk and signed an agreement to transfer some technologies to the Chinese truck maker.
Ma said that by working with MAN throughout the Sitrak project, Sinotruk has greatly improved its own research and development capability.
"We sent people to MAN, and they send staff to Sinotruk - it's 24-hour communication and exchange in culture and technology," he said.
For MAN, the major benefit from cooperation with Sinotruk is learning more about the emerging markets with China as a "role model", said CEO of MAN SE Georg Pachta-Reyhofen.
New opportunity
Pachta-Reyhofen noted the vast difference in the Chinese market and those in Europe.
MAN is able to "manage with low-cost vehicles" since price is important in China and other emerging markets, he said. "That is something we have forgotten in Europe."
He explained that strict regulations on emissions, safety and driver comfort makes it very difficult to cut costs in making trucks in Europe.
"But here we have come down to earth again, focusing more on cost-efficient but reliable products," he said.
China National Heavy Duty Truck Group Co, the parent of Hong Kong-listed Sinotruk, sold nearly 200,000 heavy-duty trucks last year, surging 68 percent from 2009, according to statistics provided by the company.
Ma Chunji said this year the growth won't be that strong. He predicts an increase between 10 and 15 percent.
In spite of slowing growth, Pachta-Reyhofen still sees tremendous opportunity in the country in the long run, which comes from the demand for new trucks as well as replacement of old vehicles.
In addition, the logistics industry in China is developing rapidly, requiring strong, fast and durable trucks, he said, noting that it's why he thinks MAN's highly sophisticated products have huge prospects in the nation.
He noted that MAN has an option to increase its stake in Sinotruk, but it's not on the agenda at the moment.
At present the company is concentrating on the Sitrak brand and the first series of products, he said.
China Daily
(China Daily 04/22/2011 page17)