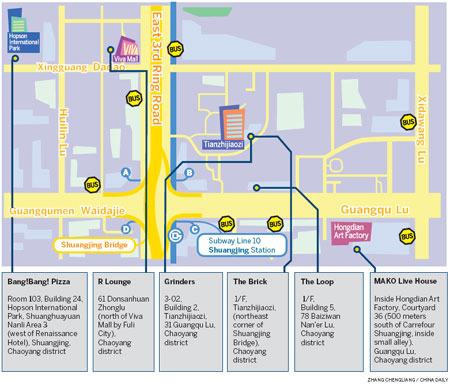 Up and coming neighborhood is a welcome change from the well-trodden bar areas
Beijing's boozers and shakers have been facing some serious problems recently: Sanlitun's bar street's seediest joints have been rumored to be shuffling around trying to clean up; Gongti-area clubs have become increasingly gaudy and are swarming with crowds of international school revelers; Nanluoguxiang has constantly been facing the threat of demolition in the name of renovation; and Wudaokou hasn't changed a bit.
Luckily, there's Shuangjing, a neighborhood just a 15-yuan taxi fare from Sanlitun (assuming there's no traffic, but there always is, so maybe 25 yuan is more realistic), to satisfy your urges, whether you are on a budget or not.
Shuangjing has only recently popped up on the gluttons' radar, which means shorter lines for the same drinks, fewer unaccompanied minors and less chance of encountering the reek of public urination.
MAKO Live House is just a short, but somehow convoluted walk from Shuangjing's Carrefour. Nestled inside the Hongdian Art Factory, MAKO offers one of the best sound systems in Beijing as well as a bar that serves up fantastic cocktails and beer at reasonable prices.
Their calendar seems bare, but shoots for quality over quantity. They've recently hosted a talk by author David Sedaris and Mongolian folk troupe Hanggai played at their opening party about a year ago.
Checking out MAKO is worth the trip to Shuangjing alone but luckily this neighborhood's got other draws, too. Closer to Line 10's Shuangjing subway stop, Grinders serves up hefty sandwiches with a reasonable price tag in addition to a long wine list, a selection of cocktail pitchers, and a sumptuous rotation of tasty beer that happily excludes Tsingtao and Yanjing.
The daily happy hour from 3 pm to 7 pm offers half-priced beer, wine, cider and highballs to guzzle, while guests stuff their gullets with enormous hoagie sandwiches full of homemade meatballs, chicken parmesan and house-roasted roast beef. The kitchen does not skimp on cheeses or sauces, which turn out to be almost as refreshing as the drinks.
After rolling out of Grinders both bloated and satisfied, pop into The Brick. It's always dark and smoky and smells like a drunken brawl just ended, but The Brick offers a beer menu and cocktail list not to be sniffed at.
Pabst Blue Ribbon tall-boy cans shine at 15 yuan during happy hour (20 yuan regularly) among the expected offerings of Tiger, Tsingtao and the like. Besides Dr Pepper, Brick Ice Tea, White Russian and The Terminator, the rest of the monikers on the mixed drink list cannot be named here.
While the others are self-explanatory, The Terminator seems worth an explanation - with a three-drink maximum, it is a juiced-up, Charlie Sheen version of a Long Island Ice Tea topped off with blackcurrant liqueur, beer and cider.
Bar food and snacks are available. Be warned, other than the salsa and chips, eating here is not recommended to anyone who either lacks a gut of pure, muscle-bound steel or is not one-half canine. But, of course, who actually thinks it's a good idea to eat chili made at a bar? Perhaps more Terminators could cure this intestinal issue.
Also, on the east side of the Third Ring Road, there's The Loop in the A Pie residential compound. It is usually empty except for a few napping staff members. The pool table is lop-sided and the balls are too heavy for the table. There's a disco ball spinning to Bob Marley's No Woman, No Cry, the former creates an illusion of potential excitement, the latter negates it. The mix of a disco ball, China Daily issues as wallpaper and Budweiser aren't reasons to stay.
Crossing the Third Ring Road takes the party to Renaissance Beijing's R Lounge. The lounge recently threw a two-night re-launch party hoping to bring in a fresh crowd. This poshly decked-out lounge has found its stride in showcasing live talent like the Jackson Twinz, whose entourage seems to have a 10-person minimum, and weeknight drink deals.
Specials include half-price drinks every night from 6-9 during happy hour. On Tuesday, grab a bottle of wine for the price of two glasses. Ladies drink for free from 9-2 am on Wednesdays.
An expert "mixologist" will be on hand on Thursday nights to mix up special 40-yuan cocktails. Unless taking advantage of these specials, guests can expect to leave with a light wallet (beers, including Tsingtao, start at 40 yuan a bottle).
Just a stumble away from the Renaissance Hotel is Bang!Bang! Pizza in the Fulicheng complex.
The pizza isn't the best in Beijing but it is sustenance and a fresh sponge for their 10-kuai tequila shots.
The kitchen closes around midnight, though, so get there with enough time to order, eat and head elsewhere, because this is not a place for early-morning frolicking - you might need to go to Sanlitun for that.
For China Daily
(China Daily 04/21/2011)