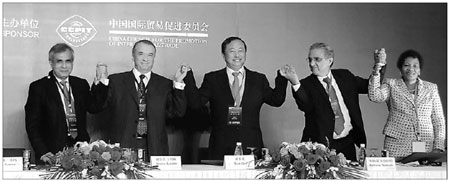 Wan Jifei (middle), chairman of the China Council for the Promotion of International Trade, holds hands with business leaders from other BRICS countries at the closing ceremony of the BRICS Business Forum 2011 in Sanya, Hainan province, on Thursday. Fu Meibin / China News Service
Sanya, Hainan - China's trade outlook remains positive and will supply enormous opportunities for emerging economies as the nation optimizes its trade structure, trade officials and experts said on Thursday.
Yu Ping, vice-chairman of the China Council for the Promotion of International Trade, thinks positively about China's trade prospects despite the trade deficit recorded in the first quarter.
"A deficit is not necessarily a bad thing as it shows China's efforts in expanding imports and striving for a balanced trade structure in the long run," Yu said.
China's trade deficit nudged over $1 billion in the first quarter, the first time in seven years.
However, China will see a trade surplus in 2011.
"It's just a matter of how large the volume could be," he added.
He Weiwen, a trade expert at Southwestern University of Finance and Economics, said China's efforts in achieving balanced trade will provide greater opportunities for the rest of the BRICS countries - Brazil, Russia, India and South Africa.
Importing more value-added and high-tech products from the BRICS nations is in line with China's target of optimizing its trade structure, He said.
"The market is enormous and will help China reduce its reliance on developed markets, and the governments should make efforts in providing a fair competitive environment," he said.
But that's largely an enterprise activity dependent on the market performance and research capability of the BRICS countries, he added.
Leaders from the BRICS countries vowed to further expand economic, trade and investment cooperation among the bloc in a joint declaration issued after the BRICS leaders meeting in Sanya, Hainan province.
It also encouraged all countries to refrain from resorting to protectionist measures and enhance coordination of macro-economic policies.
In a meeting on Wednesday, trade ministers called for a "successful, comprehensive and balanced" conclusion of the Doha Development Round and extended full support to an early accession of Russia to the World Trade Organization.
Following the leaders meeting, a large number of commercial and industrial leaders from the five countries flocked into the Chinese resort city of Sanya to attend support events and work out details for more pragmatic projects.
Yu said more than 500 business leaders attended the event held by the association during the summit.
To boost intra-BRICS trade, these business leaders agreed to set up a secretariat in each country and widely solicit opinions and suggestions for bilateral trade and investment issues.
China's trade volume with other BRICS members surged by 40 percent year-on-year in 2010, surpassing its overall growth over the same period. However, bilateral trade between other members remains relatively low and there is great potential among the bloc to expand trade cooperation, said Yu.
Meanwhile, Yu said China's currency is heading toward a market-oriented system, but it will take time, and China's current currency policies are in compliance with China's reality.
He said there are no conflicts about this issue among BRICS members. The Chinese central bank allowed the yuan to be flexible again last June.
China Daily
(China Daily 04/15/2011 page2)