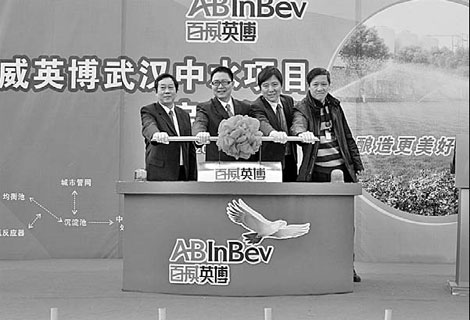 ABInBev executives, government officials and representative from the local industry association jointly launch a free water-recycling program for a local housing community in Wuhan, in Central China's Hubei province. Provided to China Daily
WUHAN - At least 2,400 families living in Hanyang's biggest government-subsidized housing community, Huiminyuan, have been receiving free recycled water since late March, thanks to a program run by Anheuser-Busch InBev (ABInBev).
The recycled water is from ABInBev's production waste at the company's national flagship factory in Hanyang, a district of Wuhan, the capital city of Central China's Hubei province. The water is treated to enable its use in fire-fighting, washrooms and for watering flowers.
"This program is the world's first involving a beer company providing social responsibility services to the community," said Wang Renrong, ABInBev's vice-president for Asia and Pacific.
The program was launched on March 22, World Water Day. A total of 4,000 tons a day is processed - 1,000 for the brewery's use, 1,000 for the community and 2,000 for other companies in a nearby industrial park.
The Belgian beer giant has invested 17.9 million yuan ($2.72 million) since December 2010 in water-purifying equipment, joint work with the local government and about 3,000 meters of pipelines that connect the Wuhan factory with the local community and industrial park.
"Water resources in Wuhan are decreasing very quickly, with the lake area shrinking and pollution increasing. ABInBev's program shows how a city could develop sustainably despite industrialization," Li Shiwei, secretary of Hanyang district's Party committee, said during the program's launch ceremony.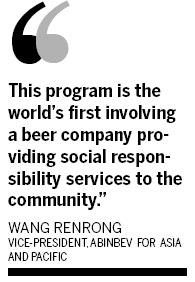 He Yong, deputy secretary-general of the China Alcoholic Industry Association, said the program "set a useful model" for other companies in the industry because 95 percent of Chinese beer companies recycled their waste water but currently most of the recycled water is discharged into rivers, lakes and the ocean. "It's a huge waste," said He.
Wang said ABInBev is considering extending its experience in Wuhan to its other 32 factories across China. "We are talking with local governments because this kind of public welfare program needs a lot of joint work with the government in areas such as financial subsidies and cooperation with neighborhood committees," he added.
Wang also said ABInBev China held a presentation about the pilot program at the company's global best practice meeting in Argentina.
ABInBev announced its three-year global environmental goals in March 2010. They demand ABInBev's plants must use just 3.5 hectoliters (a hectoliter is 100 liters) of water to produce every hectoliter of beer by the end of 2012.
Information from ABInBev China shows that its water usage in 2010 reduced 16.5 percent year-on-year. The Wuhan factory cut back the most with a 38.4 percent saving compared with 2009. It reached its savings goal two years earlier than scheduled.
Wang said because of its water-parsimony in 2010, the company saved about 20 million yuan. The reclaimed water program is spending the cash on charitable causes.
According to the company, the reclaimed water program will save 1.5 million tons of fresh water annually for the nearby community and industrial park.
China Daily
(China Daily 04/11/2011 page20)