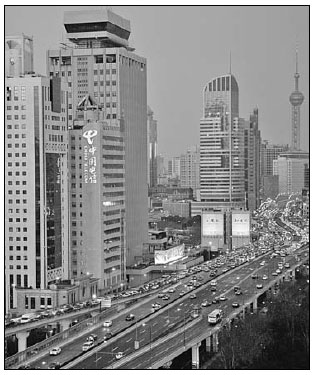 According to statistics from the Chinese Academy of Social Sciences, China's urban population reached 620 million by the end of 2009, the largest urban population in the world. Kevin Lee / Bloomberg
BEIJING - China will accelerate the pace of its urbanization in the next 20 years, with the urban population to reach 70 to 75 percent by the end of 2030, according to a recent report from the Chinese Academy of Social Sciences (CASS).
The report also said that the recent labor shortage in eastern coastal areas, which many analysts have said shows the increasing unwillingness of rural people to move to urban areas because of the surging cost of living, will not hamper the country's urbanization process in the long run.
"Urbanization is at the center of China's reform and development, for it will be one of the most important driving forces of the country's economic growth in the next decades," said Li Yang, a researcher from CASS.
Li said that a sustainable urbanization process will help China to avoid the "middle-income trap", a term coined by the World Bank to describe stagnation in a country when its per capita GDP has reached $3,000.
CASS released a blue paper last month saying that China will boost its urbanization from the current 47 percent to more than 70 percent by 2030, higher than its earlier estimation of 65 percent.
It said that the urbanization process is expected to accelerate as the Chinese government moves away from its long-held "Dual Structure in Urban and Rural Areas", which in effect restricts the relocation of rural residents to urban areas.
According to statistics from CASS, China's urban population reached 620 million by the end of 2009, the largest urban population in the world. CASS said China's urban population is twice that of the population of the United States and a quarter more than the total population of the 27 countries of the European Union.
"In the past 30 years, China developed because of reform and opening-up. In the coming two decades, we need more reforms to further unleash the potential of development," Zheng Xinli, permanent vice-chairman of the China Center for International Economic Exchanges, told China Daily in an earlier interview.
Zheng, who is a former deputy director of the Policy Planning Office under the Central Committee of the Communist Party of China, said that one person moving into a city can create economic value of 100,000 yuan ($15,281).
In the next 10 years, 200 million Chinese people will move into cities and towns, with a potential to add 20 trillion yuan to the economy over the decade, he estimated.
China Daily
(China Daily 04/07/2011 page14)