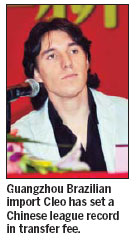 The reviving Chinese Super League (CSL) is attracting more and more foreign coaches and players.
Eleven coaches at the 16 CSL teams are from abroad, including Frenchman Omar Troussier, who signed a three-year contract with Shenzhen Ruby FC in February.
Known as the "White Witch Doctor", Troussier is well known to Chinese fans for his success with the Japanese national team, after he led the Blue Samurai to the continental title at the 2000 Asian Cup and made the round of 16 at the 2002 World Cup.
Besides newcomer Troussier, big names like Dutchman Arie Haan and Croatians Miroslav Blazevic and Branko Ivankovic, have already made their marks here.
Under the guidance of Ivankovic, Shandong Luneng claimed its fourth first-tier league title two rounds ahead of the end of the season. Tianjin Teda, tutored by Haan, finished second and won its first AFC Champions League berth.
The inexperienced Shanghai Shenhua finished third under Blazevic, who became the head coach of the Chinese Olympic team after the Guangzhou Asian Games.
According to CCTV 5, there will be 65 foreign soccer players competing in the CSL this season, which has a total of 553 registered players, surpassing the K-league's 50 overseas players in a total pool of 624 and the J-league's 45 out of 530 (players with dual nationalities not included).
Guangzhou Evergrande, which has vowed to win the AFC Champions League within five years, took the lead in the transfer market.
The club first signed Brazilian striker Muriqui from the Atletico Mineiro with a club record fee of $3.5 million last summer.
Then it finalized three four-year deals with Brazilian centerback Paulao from Gremio Prudente, midfielder Renato from Botafogo and forward Cleo from Serbia's Partizan, who scored 10 goals in 12 matches in the 2010-2011 European Champions League.
Cleo's transfer fee of 3.2 million euros ($4.5 million) is a Chinese league record.
"The appearance of clubs like Guangzhou Evergrande will bring fans back to the stadium, and the participation of outstanding foreign players will make our domestic league more attractive and competitive," said national team defender Li Weifeng. "There are many talented players in the Brazilian league, their coming shows some Chinese clubs are determined to improve."
(China Daily 04/01/2011 page24)