China may double solar power capacity goal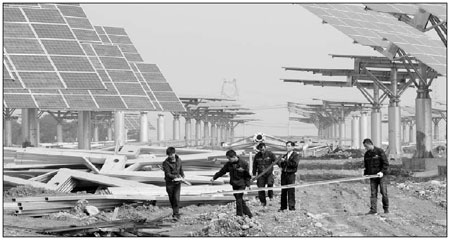 Laborers at the construction site of a 2.59MWp Wholly Automatic Tracking Solar Power Station in Xinyu, Jiangxi province. China is likely to double its target for solar power capacity to 10 gW by 2015 from the 5 gW originally planned. Zhu Wenbiao / for China Daily
BEIJING - China, the world's largest solar panel exporter, is likely to boast 10 gigawatts (gW) of solar power capacity by 2015 from the current 1 gW, doubling its existing target amid rising doubts about the safety of nuclear power.
The country may double its target for solar power capacity to 10 gW in 2015 from the 5 gW originally planned the China Securities Journal reported on Wednesday, citing unnamed sources.
China is expected to announce a new five-year target for the solar industry soon. The government stalled new approvals for nuclear power projects on March 16 in the wake of Japan's nuclear crisis.
Meanwhile, China consolidated its position as the No 1 country in clean-energy investment in 2010, with $54.4 billion flowing into the sector, up 39 percent from the 2009 level, according to a report by the US-based Pew Charitable Trusts, an independent, non-profit organization. In 2009, China overtook the United States as the No 1 nation for installed clean-energy capacity.
According to the latest report, Who's Winning the Clean Energy Race, China led the world in asset financing, with $47.3 billion in private investments directed toward installation of clean-energy generation capacity. The solar power sector attracted 6.3 percent of the total investment in clean energy last year.
China's installation of less than 1 gW of solar energy capacity demonstrates that most of its production is for the export market. In contrast, 17 gW of wind energy was installed in China in 2010, helping the nation move quickly toward its 2020 target for installing 150 gW of wind energy, the report said.
Renewable-energy capacity reached 103 gW in China last year, according to the report.
"The new target could be a relief for China's overcapacity photovoltaic (PV) industry," said Li Shengman, an industry analyst at China Investment Consulting.
The export-dependant industry will see the domestic market expanding, Li said.
PV makers will experience a challenging year in 2011. Europe will not be the growth engine it has been in recent years as governments there are cutting back on incentives.
Germany's first quarter 2011 end-market demand for solar PV has been performing at less than 50 percent of what it was in the first quarter of 2010, according to a report in Solarbuzz.
Meanwhile, the policy could push up the price of polysilicon, a raw material for making solar panels, passing on more pressure to the down-stream manufacturers, he noted.
China is home to the world's top solar makers, including Suntech Power Holdings Ltd and Trina Solar Ltd all of whom have focused on the overseas markets while expecting a domestic market take-off.
"There was been a theory that China was rising so fast in clean energy because of its low labor costs," Jennifer Granholm, an adviser to Pew, said. "This is not about labor costs. This is about policy."
China Daily
(China Daily 04/01/2011 page14)
Today's Top News
Editor's picks
Most Viewed