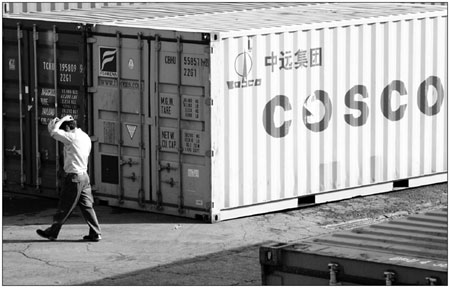 A China Ocean Shipping Group Co ( COSCO) container at a shipping terminal in Japan. Tomohiro Ohsumi / Bloomberg
BEIJING - China COSCO Holdings Co Ltd, the country's biggest shipping conglomerate by market value, said it has suspended its research into nuclear power as an alternative energy to replace fuel oil in vessels after Japan's nuclear incident.
The study on nuclear, wind and solar power, undertaken to find ways to cut carbon emissions, has been under way for almost three years and has made significant progress, said Wei Jiafu, president of China Ocean Shipping (Group) Co (COSCO), the parent of China COSCO, on Tuesday.
He added that the shipping line halted the research into nuclear power because of safety concerns after the nuclear leak in Japan, though the company will continue with the studies on wind and solar power.
Tianjin-based China COSCO has reduced vessel speeds to cut emissions of pollutants and to save costs.
The shipping line also said that it is "cautiously optimistic" about the shipping industry in 2011, when the profitability of the high-end logistics sector will continue its rapid expansion.
"We'll see market volatility this year, but the domestic market and other emerging markets that still have robust growth this year will support our business," Wei said.
China COSCO, the world's biggest bulk-cargo fleet operator, however, said that the dry-bulk sector will face big challenges this year as shipping capacity growth will outstrip demand.
Global dry-bulk shipping capacity is expected to grow by almost 13 percent, outpacing the global market demand increase of 6 percent, said Xu Zunwu, managing director of COSCO Bulk Carrier Co.
China COSCO had 450 dry-bulk ships by the end of 2010, and an additional 18 vessels on order will be delivered by 2014, at a total cost of 4.6 billion yuan ($701 million).
"We'll curb capacity in the future and avoid adding more capacity through building heavy-cargo vessels," Wei said.
The sea freight index on the Baltic Shipping Exchange rose 5.4 percent last year, with high volatility. It dropped to 1045 points in February, the lowest level since 2008.
By contrast, the world's fifth-biggest container shipping company plans by the end of 2013 to raise its container shipping capacity by 44 percent over the 2010 level to 885,058 twenty-foot equivalent units (TEU) and then reduce it to 847,783 TEU in 2014.
The demand for container shipping will grow when the world's real economy picks up, Wei said.
China COSCO's container shipping revenue rose 79.3 percent year-on-year to 38.1 billion yuan in 2010, spurred by a jump in the number of Trans-Pacific lanes. The shipping line reported a profit of 6.76 billion yuan in 2010, compared with a loss of 7.54 billion yuan the year before.
Shares of China COSCO edged up 0.1 percent to close at 10.15 yuan in Shanghai.
China Daily
(China Daily 03/31/2011 page16)