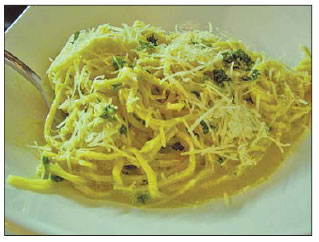 Spaghetti with carbonara sauce, which maintains the Italian essence while adding an American flavor. Liu Ling / for China Daily
Eatalia looks to educate palates with authentic dishes
In a city where pizza and spaghetti with marinara sauce are often eaten with ketchup, a new Italian restaurant in Wudaokou is taking on the unique dual role of traditionalist educator and begrudging collaborator.
Eatalia, which opened two months ago in the northwestern neighborhood overrun with university students, is the brainchild of Mario Zaccagnini and Cedric Bloch, both 23. The Italian natives ditched potentially lucrative positions - Zaccagnini left a global investment management firm because it "wasn't giving me orgasms", while Bloch passed up a career in mathematics - and came to Beijing to serve authentic Italian food.
Zaccagnini quickly discovered that it was easier said than done, especially as his restaurant offers diners the chance to order off the menu.
"I've had strange requests," he said on Monday. "Someone asked me for a sauce with egg whites, tomatoes, anchovies, chilies and ham all mixed together. Some people ask for fried chips."
For two purists quick to point out that alfredo sauce is an American version of carbonara, they have been adept at giving customers what they want while explaining the basics of Italian food. Lessons often begin with Eatalia's plump and rich ravioli.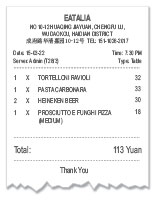 "People have asked me, 'What is this ravioli? Is this Italian or are you trying to copy us?'" said Zaccagnini, explaining that several Chinese customers have mistaken the filled pasta for an interpretation on jiaozi, or dumplings.
The eatery, located in prime real estate next door to La Bamba and Propaganda, is a corridor-shaped restaurant that reminds one of pizzerias in New York City. It is decorated in the college verve of its neighbors, with its ceiling covered in half-amusing chalk scrawls ("Good Eating Deserves Good Drinking" is just one example).
The excellent food, however, distances Eatalia from its rivals, particularly its six ravioli dishes that come with a variety of fillings, from pumpkin to prawn and asparagus. The tortelloni ravioli, stuffed with spinach and ricotta and dressed in a sauce of roasted onions, bacon and cherry tomatoes, was delicate and creamy in a thin pasta casing. I could have easily eaten another plate without any sauce.
The pizzas, which are brought out from the kitchen and sliced at the bar, are also not to be missed. The prosciutto e funghi pizza, topped with mushrooms, imported Parma ham, parmesan shavings, tomato and mozzarella on a crispy thin crust, was fantastic for its simplicity, the way pizzas should be made.
This week, Eatalia has a new menu, though pasta dishes can still be made to your liking. Zaccagnini said lasagna will be offered once a week, while permanent additions include sea bass with cherry tomatoes and black Italian olives in an anchovy-based sauce, as well as a roasted chicken in lemon sauce.
If the initial menu is anything to go by, Eatalia will soon have those discerning eaters forgetting about ketchup.
China Daily
(China Daily 03/30/2011)