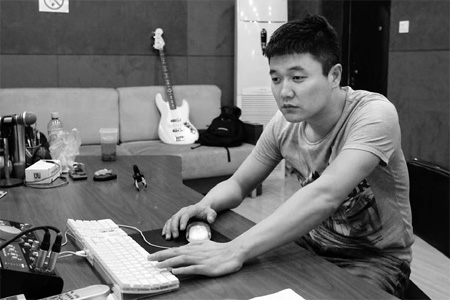 Xiao Yang, 31, director of the hit online film Old Boys, prepares music in a studio in Beijing on Tuesday. The film has been viewed online more than 26 million times since its Oct 28 debut. Liu Zhe / for China Daily
BEIJING - What does it take to touch a generation?
It's a question faced hundreds of times by Xiao Yang, whose online film Old Boys is resonating deeply with Chinese born in the 1970s and 1980s.
In the movie, Xiao plays a wedding party host who loves singing, while his real life business partner Wang Taili plays a hairdresser who loves dancing.
But their youthful dreams have been replaced by reality.
At the end of the movie, the two old boys walk onto a talent show to realize their dreams, even though everyone is making fun of them.
When they sing a beautiful elegy to youth, a lament for all the things lost along the way, many were in tears. The song features the music of Ohashi Takya's Arigatou, with lyrics written by the pair, known in the film and in reality as the Chopstick Brothers.
The film has been viewed online more than 26 million times since its Oct 28 debut.
"I didn't see that coming," said Xiao, 31, who makes a living shooting commercials but who had long considered shooting a film.
When Wang heard that his idol Michael Jackson had died, he called Xiao and said: "We should do something."
The old boys' story came easily. As fans of the late pop star, Xiao and Wang told a story about ordinary people recapturing their lost dreams - performing Michael Jackson songs on the stage - in memory of their icon and their own dying dreams.
"In 2009, when Michael Jackson died, so many young people were sad, perhaps not so much because the person had died, but that since their idol was dead, they feel that this signals the end of youth," Xiao recalled."At that time I was working like crazy and I didn't know why. I wanted a way to express this feeling, and this film is the result."
Xiao wrote the story, while Wang spent an entire month on the lyrics for the film's theme song, which includes lines like "Life is like a heartless chisel, changing our appearances. Must we wither before we blossom? I used to have dreams."
What comforted the two men most was that this film changed some people's lives.
Netizens, many who cried during the final scenes, say the film reawakened their dreams.
"The lyrics, to a certain extent, pushed the buttons in their souls, and even I wept for it," Xiao said.
Wang said he wept many times while writing the lyrics, which to some extent were mainly based on his own decades-long singing dream.
Just like the hairdresser he plays in the film, in reality Wang can only sing as a hobby.
In 1993, at 24, Wang left his hometown in Shandong province for Beijing. With only 500 yuan ($75) in his pocket, he came to the city to sing.
At this time, Xiao, born and raised in Chengde, Hebei province, was still at the middle school affiliated to China Academy of Art in Beijing.
But Xiao said he felt drawing was meaningless and had no relationship to people's lives.
"I said to my classmates: 'If we draw a person on a piece of paper, does it connect with someone's life? There is no connection at all!' That was what I thought at the time," Xiao said.
Because of this, Xiao decided not to become an artist, but a director. Later, he entered the Beijing Film Academy.
In 2005 Wang met Xiao and the two have worked together ever since.
"Before we released the film, the organizers firmly believed that an online video could not exceed 10 minutes, that no one had the patience.I tried to cut it down to 10 minutes and please everyone, but in the end I had to insist," Xiao said. "The subject we were given is huge, to show the mentality of this era.Placing this big topic in a small space, it's like playing a football match on a basketball court."
Xiao and Wang are working on the post-production of another online movie The Winner, for which Xiao concentrated on directing and Wang acted.
"It tells a story of a man chasing real happiness," Xiao said.
But Xiao warns that fans should not hold high expectations of The Winner, as "it sure won't surpass Old Boys".
"We have spent as much effort on The Winner as we did on Old Boys," Xiao said. "But like in painting, you can't expect each piece of work from a painter to be a masterpiece."
China Daily
(China Daily 03/30/2011 page2)