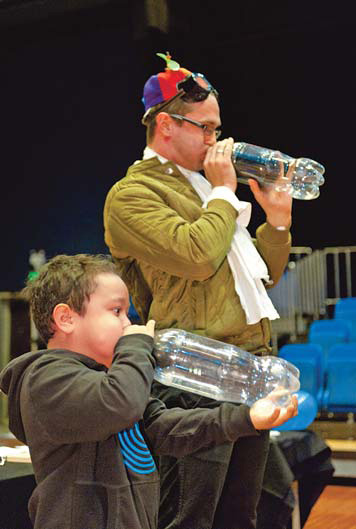 Tim O'Mahony and a Western Academy of Beijing kindergarten student have a balloon-blowing race. Walk Hall / for China Daily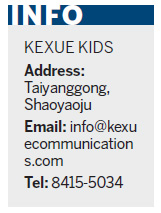 Watching the Kexue Kids team - Tim O'Mahony and Dawn Estes - as they hold the attention of 100 kindergarten children with a session of fun science experiments is inspiring.
Dressed in silly hats and clothes, the duo managed to captivate their audience throughout a large show and smaller classroom workshops at the Western Academy of Beijing.
Using ideas that are easy to relate to and interactive activities employing everyday items, they showed the youngsters how air works. After much balloon popping, the children were able to discuss relatively complex scientific concepts relating to the theme, despite their tender age.
Although only set up as the educational division of Kexue Communications by O'Mahony and fellow Australian Ben Bravery last October, Kexue Kids has already staged more than 20 shows and workshops across Beijing and beyond.
"We've presented shows in Chinese schools in Beijing, Shanghai and Guangzhou on behalf of Australia National Science and Technology Science, known as Questacon," said O'Mahony. "We've also been working closely with Beijing's largest international schools to develop further programs for their science needs."
The workshops at the Western Academy of Beijing in March were an example of how science can be both fun and educational, even when tackling relatively difficult concepts.
The 40-minute sessions were extremely well planned and involved pupils using familiar items such as colored paper, cups, glue, paper clips and straws to create creating a windmill and a string animal.
The children were taken through each step of the process, helping them understand the role air plays in our world. While help was available, it was left to the kids to innovate and discover.
The future certainly looks good for Kexue Kids, and for those international schools that take advantage of the team's expertise to provide a fun alternative to traditional science classes.
Talking about the future of Kexue Kids, O'Mahony said: "We will expand our services to work closely with local Chinese schools, as well as our current international school clients."
By giving science a fun twist and expanding into other cities in China, Kexue Kids aims to become recognized as Beijing's and China's leading science education specialists.
For China Daily
(China Daily 03/28/2011)