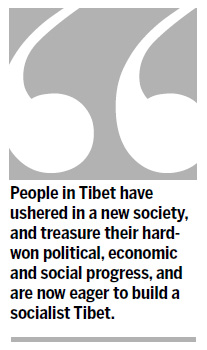 March 28 is "Serfs Emancipation Day", a day celebrated by more than 2.9 million people of all ethnic groups in the Tibet autonomous region. On this day in 1959, a democratic reform was carried out, under the leadership of the Communist Party of China (CPC), which overthrew theocratic feudalism and freed millions of serfs and slaves, and heralded a new era in the history of the region.
But the Dalai Lama and his political group, the chief representatives of old Tibet's serf-owning class, have never ceased their attempts to split the motherland and undermine the region's progress and ethnic unity. They have been trying, unsuccessfully, to restore feudalism in Tibet.
The Dalai Lama and his supporters disregard history, distort facts and spare no efforts to glorify old Tibetan society, claiming that old Tibet was "more civilized" and a better place than today's Tibet. These are not only vain attempts to distort facts and international agreements, but also conceited denials of the remarkable progress that Tibet has made since 1959.
A look at the history of Tibet before 1959 reveals a political system that was more brutal, barbaric and backward than feudalism in Medieval Europe. The serf-owning class, comprising less than 5 percent of Tibet's population, owned nearly all of Tibet's means of production. The serfs lived a life of dire misery and poverty, and the theocratic system prevented development and pushed the local economy into a labyrinth of stagnation.
In the old days, Tibet's agriculture and animal husbandry were extremely backward and completely at the mercy of the elements. There was no industry or means of transport in the modern sense of the term, nor was there a single highway.
Since the democratic reform, under the CPC Central Committee, the vigorous support and selfless assistance of other provinces (autonomous regions and municipalities) and the efforts of the people of all ethnic groups, Tibet has seen earth-shaking progress and written an unprecedented success story in many fields.
Tibet's local GDP soared from 174 million yuan ($26.5 million) in 1959 to 34.22 billion yuan in 2007, a 59-fold increase with an average annual growth of 8.9 percent at comparable prices. Since 1994, the local GDP has grown at an average annual rate of 13 percent, higher than the national average. Such a high pace of growth was beyond imagination in the Tibet of yore.
During the 11th Five-Year Plan (2006-2010), Tibet followed the development road with national and regional characteristics and expedited its rapid economic and social development, laying a solid foundation for building a moderately prosperous society.
Tibet's GDP nearly doubled from 2006 to 2010, reaching 50.75 billion yuan with an annual average growth rate of 12.4 percent. Investment in fixed assets totaled 165.6 billion yuan, 2.4 times more than the 10th Five-Year Plan (2001-2005) period, retail sales of consumer goods reached 67 billion yuan, and the local fiscal revenue touched 12.63 billion yuan.
The average life expectancy in Tibet today is 67 years, 31 years more than it was in 1959. And Tibet's population has increased to more than 2.9 million, a 140 percent increase over the 1959 figure of 1.228 million.
In the spring of 1959, Tibetan people took over the reins of a new socialist region after overthrowing the feudal lords, and started enjoying all the rights enjoined in the country's Constitution. Today, they are no longer subjected to political and religious persecution, and are free of slavery and serfdom. Nor are they subjected to corporal punishment, heavy taxes and exploitation.
These are the reasons that make the "Serfs Emancipation Day" so important for Tibetans and other ethnic groups in the region. People in Tibet have ushered in a new society, and treasure their hard-won political, economic and social progress, and are now eager to build a socialist Tibet.
But after the violence in Lhasa on March 14, 2008, some Western media outlets splashed fabricated reports, with a few of them even doctoring photographs to substantiate their falsity. The facts have ultimately nailed their lies, and it's time they stopped giving credence to rumors and publicizing distorted reports on Tibet.
For years, some Western media outlets have been publishing and broadcasting fabricated reports and spreading disinformation on the pretext of freedom of the press.
If they really value the well-being of the people in Tibet, they should learn to respect Tibetans' choices and look at the achievements of new Tibet, instead of trying to glorify feudal Tibet as heaven.
It is universally acknowledged that Tibet has progressed as part of the Chinese nation and all ethnic groups in the region are living a happy life. History proves that unity and stability bring prosperity and happiness, and separation and turbulence are the source of disaster.
The author is a media commentator based in Tibet.
(China Daily 03/28/2011 page9)