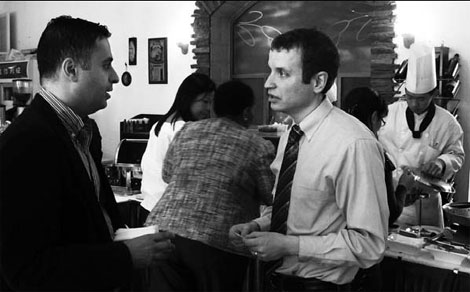 Matthew Jaskol (right) chats with Global Easy Tour's Leon Zhang about growth opportunities in the travel industry at an International Newcomer's Network lunch in Beijing last week. Mike Peters / China Daily
Matthew Jaskol has known for a long time how tough it is to personalize a vacation plan.
"I'm more into natural scenery when I travel," he says, "while my mom, for example, wants culture. Artists. Shopping!
"In New York, she can spend five hours - or the whole day - at the Metropolitan Museum of Art. I'm done in an hour, and I won't need to go back again.
"The Forbidden City? I want to see it and get the sense of it, but two hours is enough for me. Mom wants to suck the marrow out of that experience - she needs most of a day for that."
At this point, Jaskol grins widely. "And then she wants to know how to get back to that cloisonn shop we visited last time! Oh, boy."
Jaskol, who has been in China for about eight years, says the country is so far-flung, and the internal travel business is so new, that it's hard to meet individual tastes and intensity levels. "Most of the travel industry worldwide makes money on the kinds of things most people want to do," he says. "You can build a personalized intinerary on your own, but it's a lot of work. And here, if you don't speak Chinese ..."
So this quiet, steady-voiced American teamed up with two Chinese partners, one from Wuhan and one from Hong Kong, and this month they've launched trekiz.com, an online service that allows travelers to build their own China vacations - with multiple destinations, flights, lodgings and excursions - all from one place.
Jaskol has spent much of the past year visiting and vetting 93 vendors that are partners on his site, from travel agents in remote provinces to cooking schools, kungfu teachers, tea tastings - all available on an a la carte basis.
There's a feng shui tour of the Forbidden City and a camping trip on the Great Wall, but it's the more remote sites that make trekiz.com fun to explore. Recent postings include birding tours at Qinghai Lake (with add-ons about Tibetan culture) - and private tours of the "longevity villages" at Bama Yao, where you can explore caves and also hear the stories of more than 80 people who are more than 100 years old living in this small city of 240,000.
You can build a trip in real time, and the site keeps a running total of the costs. And when you book through trekiz.com, the money you pay is not distributed to the individual suppliers (local travel agents, tour operators, etc.) until seven days after the trip, to make sure customers are satisfied.
Jaskol says that's good for everybody. "We promote our suppliers' brands and bring them customers - they set their own prices and create as many packages as they want to sell. The site is engaged with social-media websites and has its own blog.
"If the conventional travel service is the book publisher, we're the digital printer," he says. "Individual choice is what it's all about."
Jaskol says most travel booking sites, such as Expedia, can't deliver one-stop shopping if you want to travel to more than two places.
"Our research shows that 80 percent of travelers in China will go to three or more places, so making a multi-destination package possible is a big advantage for us."
Jaskol met his wife, Amy Li (Chao Li), while he was working in Beijing for The Economist's Intelligence Unit. She was a public-relations specialist working with one of his projects, and he'd been chatting about his weekend passion: rock-climbing at Longtanhu Park.
When he casually suggested she could go along, "she was asking a million questions: How many people will go? How many are boys? How many are girls?"
She said she'd think about it, Jaskol remembers, "but I expected the answer to be NO." Three weeks later he got an SMS: She was ready to go. "I thought, wow, she's gutsy, out there, brave."
More so than Jaskol knew: "I found out later that she'd asked every possible friend to go rock-climbing with us. They all pretty much said, 'Are you kidding?'"
But she came anyway, and the two were dating more seriously after about two months.
Li had applied for the Strategic PR Program at the Annenberg School, University of Southern California, and when she left for the US, Jaskol was committed to follow her.
"I was the pei du," he says, joking about how a Chinese student studying abroad is often accompanied - usually by a wife or a girlfriend. Later, when Jaskol entered the Yale MBA program, she followed him to the US East Coast with a job at the Yale public affairs office.
Today they are back in China with a beautiful 9-month-old baby, Talia Jaskol, also known as Li Yuzhen.
And everybody's too busy to go rock-climbing this weekend.
China Daily
(China Daily 03/27/2011 page5)