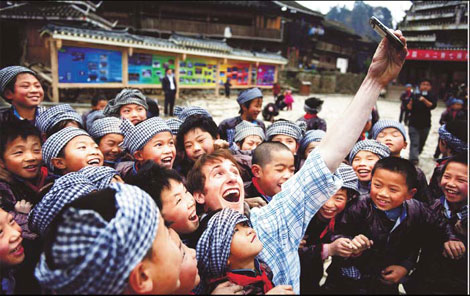 Swiss Liam Bates takes a photo with local children during his trip to Southwest China's Guizhou province. Provided to China Daily
Three foreigners who speak fluent Mandarin host the Travel Channel in Beijing and share their experiences journeying throughout the country. They talk about their latest series, for which they visited remote villages to celebrate festivals with ethnic groups.
Liam Bates loves the freedom of life on China's freeways.
"I can't go more than two months without traveling," the 23-year-old Swiss said in perfect Mandarin.
Since he first visited China six years ago, he has toured all but four of China's provinces and regions - often getting around by hitchhiking. His next trip will be to Northwest China's Qinghai province.
"I have no money and no plan. It's easy to hitchhike around the country," he said.
He often hitchhikes through the outskirts of Beijing, traveling for up to five days with nothing but a tent and food.
"Smiling is necessary, because it shows your kindness," he explained.
"You also have to make the right motions to attract a driver's attention. The most important point is being interesting to, and communicating with, drivers. Then, they'll let you catch a ride."
Bates gave himself a Chinese name, Li Mu. He sometimes performs a kuaiban ballad - a traditional performance art form - alongside the road to lure drivers. He learned the skill from Ding Guangquan, a cross-talk master who is also a judge of the Chinese Bridge, a language competition organized by Hanban (the Office of Chinese Language Council International).
Bates, who will graduate from the Communication University of China this summer, met Ding after winning the 2010 competition's first prize.
Bates recalled planning a 60-day motorbike trip with three friends from Tibet to Shanghai in June 2009. But he broke his leg in a traffic accident in Jiangsu province.
"That is the most dangerous situation I encountered during my trips," he told METRO.
Bates was sent to a hospital in a small town but did not trust the quality of the care. He said the hospital was "crude" and the treatment actually made his leg worse. He got an operation in Shanghai and was back on the road a month later.
His most recent trip was a two-week journey through Guizhou province last December, during which he produced a Travel Channel program.
Bates and the film crew spent 15 days in villages, celebrating local festivals with ethnic groups, such as the Miao and Yao.
"Although I could also travel to those places on my own, it is different when creating a TV program, because I learn more," Bates said.
While he simply enjoys local customs when traveling solo, the filming process encourages him to ask more questions and delve deeper, and it pays some of his travel expenses, he said.
China Daily
(China Daily 03/22/2011)