Topic: Ming body uncovered
An extremely well preserved body of a Ming Dynasty (1368-1644) woman was discovered in Taizhou, Jiangsu province, in early March. She was wrapped in a shroud and submerged in a yellow-brown liquid.
Through the pictures we can see that her body was rigid, skin intact, with her facial expressions, hair and even eyelashes well protected, even though she is 1.5 meters long. Guess what? After many years, we might be treated like this - uncovered and exhibited in a museum for others to look at. Duh!
"CONGHAO" ON SINA; FOLLOWERS: 38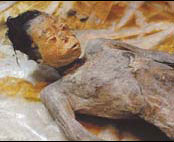 Taizhou museum said they will preserve the female body forever. Huh? Who gave you the right to do this; open her tomb and keep her body? She has been buried under the earth for hundreds of years, but you guys have disturbed her tranquility forever.
"LAOBANYANG" ON SINA; FOLLOWERS: 126
Nothing was buried with the dead and her identity is still unknown. Is she a servant girl or a princess? Who knows. It must be a great topic for archeologists to talk about.
"2XUAN" ON SINA; FOLLOWERS: 100

Topic: Return of salt
After Chinese shoppers rushed to buy salt in the belief it could protect them against radiation from the Japan nuclear crisis, many are now trying to get refunds. This is proving no mean feat.
It's really not necessary to worry about the affects of Japan's nuclear leaks (in China) and rush to buy out salt. Even if the radiation comes to China, we still can't rely on the salt to shield us. Besides, the salt supply is abundant.
"NANGONGGUYUN" ON SINA; FOLLOWERS: 15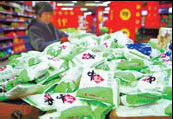 If you bought salt at a higher price from illegal merchants, you have the right to get a refund on the excess money you spent, using receipts as proof. Otherwise, you have to negotiate with the shops.
"CHAOZHOUSHIQINZIWANG" ON SINA; FOLLOWERS: 81
It's a joke that those who have bought too much now want refunds for the salt. You profit from others' expense but spit on your own blanket. For those who want to refund the salt, it is high time you learned to take the blame.
"LEJIA" ON SINA; FOLLOWERS: 1.6 million

Topic: Ritan praying ceremony
A traditional ceremony dating back to the Qing Dynasty (1644-1911) staged on Sunday in Ritan Park to offer prayers to the sun has caused a heated debate.
What motivated such a ceremony to come about more than 160 years ago? And what is the motivation today?
"XIAOLU" ON SINA; FOLLOWERS: 288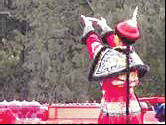 I don't agree with carrying on with such a ceremony. I think it's not necessary to bring life back to some history. If it's necessary, Roman coliseums should be restored; scenes of lions and tigers fighting each other should also be brought back.
"PENGYONGTANG" ON SINA; FOLLOWERS: 105
I hope it's only because we want to respect the ancestors that we stage such a ceremony, rather than for the so-called image project. We have enough of those activities.
"QINGPINGLINYIN" ON SINA; FOLLOWERS: 12
It's ironic to have events offering prayers to show respect to ancestors here. Just look around in Ritan Park: one restaurant, two yoga clubs and even one television studio, to name just a few. The place has turned into a shopping area.
"GUIJLVYOU" ON SINA; FOLLOWERS: 1,036
China Daily
(China Daily 03/22/2011)