What are you doing in retirement?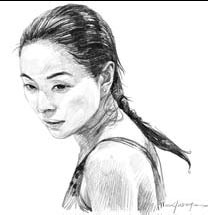 I found I have so much to learn. I'm learning English right now. I also read books to get to know more about the world.
Are you going to seek a job related to diving?
I hope so. I also want to go to the London Olympic Games - in a different role - and do something for the diving team.
How about being a diving coach?
No, I don't think I will be a coach. I'm a quiet and soft-hearted person and not suited to being a coach. You have to be strict with young athletes during training and competitions, but I'm afraid I could not do that.
Do you miss diving?
Yes. When I shot the commercial for Anta, I had to stand and jump on a mini trampoline for different poses. I was feeling so happy and familiar because it reminded me of the daily training when I had to jump on them every day.
It's like I went back to the old days.
You have retired and are not in the limelight any more. Are you surprised there are still sponsors, like Anta, wanting to sign you?
I'm not surprised. Actually, I see myself as a normal person now. That is in accordance with Anta's ideas for its new products for female consumers: Young ladies should release themselves by doing aerobic exercises, keeping a positive attitude and a healthy body.
I'm not diving, but I still love sports and want to pass on those ideas to people through the TV commercial.
China Daily
(China Daily 03/22/2011 page23)