Departure gate
Your passport to the latest destinations and airline promotions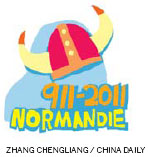 Normandy marks 1,100 years
Normandy celebrates its 1,100th anniversary this year with medieval markets and Viking villages as well as light and sound shows.
Tourism officials across Normandy have planned over 200 events between April and October. One highlight: a light show at Bayeux Cathedral between July 12 and Aug 27. The fiefdom of Normandy was created for the Viking leader Robert of Normandy in 911 through the Treaty of Saint Clair-sur-Epte.
Shakespeare back in Stratford
The Royal Shakespeare Company has returned to the Royal Shakespeare Theater in Stratford after a three-year renovation, and the Swan Theatre has also opened its doors after an extensive facelift.
The redevelopment work cost about $100 million, according to Visit Britain. The company celebrates 50 years in 2011, with a host of performances between Apr 14 and Nov 5, including Macbeth, A Midsummer Night's Dream and The Merchant of Venice.
DC celebrates Italian culture
US capital Washington DC is adding some Mediterranean flair to its cultural calendar this spring with La Dolce DC, a celebration of all things Italian.
Timed to honor the 150th anniversary of the unification of Italy, the event runs through July 31 and focuses on everything Italian, from arts and architecture to culture and cuisine.
Town center goes car-free
The town center of Swinoujscie in northwestern Poland goes car-free this year as large parts of the historical center have been turned into pedestrian areas, Poland's tourism office said.
The Baltic Sea town is also planning new cycle routes and extra parking places for cars, while traffic to the ferry terminal will be diverted around the old town on two ring roads.
Nuke woes stir museum visits
The National Museum of Nuclear Science and History in Albuquerque, New Mexico, US, is seeing more visitors since a massive earthquake and tsunami in Japan caused fears for the safety of a nuclear plant.
According to a local television report, workers at the southeast Albuquerque museum say three times more people visited over the weekend than during on average weekends since last summer.
Museum officials believe fear of a meltdown at the Japanese reactor is prompting some visits.
The museum was created in 1969 to tell the story of Kirtland Air Force Base and the development of nuclear weapons. It became the National Museum of Nuclear Science and History in 2009 when it moved to its current location.

Big prayer wheel in Shangri-La
Ethnic Tibetans must work together to spin the giant prayer wheel in Dukezong ancient city of Shangri-La county, Tibetan autonomous prefecture of Deqen, southwest China's Yunnan province. The 60-ton prayer wheel is made of copper and stands 21 meters high.
Airline news and deals:
Hainan Airlines offers new service: Beginning Mar 28, a new route from Xi'an to Nanchang will be offered by Hainan Airlines, running two flights a week, on Monday and Friday. The flight departs Xi'an at 10:30 am and arrives at Nanchang at noon; it leaves Nanchang at 2:30 pm and arrives at Xi'an at 4:15 pm. Hainan also offers many discounted tickets on its website, www.hnair.com, with the largest discount of 75 percent (from 180 yuan).
New route added: Myanmar Airways International has begun its first regular service between Guangzhou and Rangoon. The flights take off twice a week at 2:15 pm on Thursday and Sunday at Guangzhou Baiyun International Airport, and a single journey takes two-and-a-half hours. China Southern Airlines also flies between Guangzhou and Rangoon, and the two airlines transport 5,000 to 6,000 passengers on the route each month.
Discounted ticket offered: Singapore Airlines offered discounted tickets of 4,070 yuan for round trips between Beijing and Singapore, and 5,110 yuan for flights from Beijing to Bangkok, Phuket and Chiang Mai in Thailand. The round trip to Bali and Djakarta is 5,350 yuan, and the round trip to Kuala Lumpur and three other cities in Malaysia costs 4,760 yuan.
The discounts will be carried by SQ805 from Beijing and should be ordered before March 27.
China Daily - Associated Press - Deutsche Presse-Agentur
(China Daily 03/20/2011 page16)
Today's Top News
Editor's picks
Most Viewed