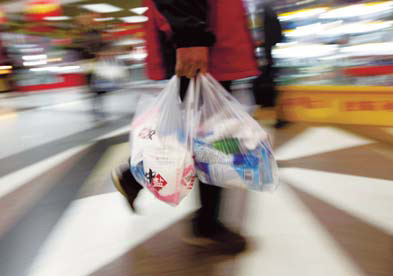 A shopper carries bags of salt as he leaves a supermarket in central Beijing on Thursday. Residents in some Chinese cities flocked to buy iodized salt, believing it could help ward off potential radiation effects. Jason Lee / Reuters
Authorities call for calm and pledge ample supplies, report Wang Jingqiong and Li Xinzhu in Beijing.
Worried shoppers stripped stores of salt in Beijing, Shanghai and other parts of China on Thursday in the false belief that it can guard against radiation exposure, even though any fallout from a crippled Japanese nuclear power plant is unlikely to reach the country.
The panic buying was triggered by rumors that iodized salt could help ward off radiation poisoning - part of the swirl of misinformation crisscrossing the region in response to Japan's nuclear emergency.
The rumors have traveled widely. Text messages on mobile phones have circulated about nuclear plumes spreading from Japan throughout Asia. Rumors also spread that radiation has leaked into the sea from the Fukushima Daiichi nuclear power plant in Japan, so salt taken from the sea - not the primary source of salt in China - would be contaminated.
Other rumors have triggered similar responses elsewhere. Drugs stores and health food shops in Russia's Far East and British Columbia, Canada, have reported shortages of iodine pills, despite health officials insisting that potassium iodide is not anti-radiation.
Even the World Health Organization (WHO) was compelled to call for calm.
"Consult your doctor before taking iodine pills. Do not self-medicate!" the WHO wrote on its Twitter page Monday evening. The statement has done little to avert packs of 14 potassium iodide pills from attracting bids of up to $540 on eBay.
Back in China, the public has swarmed to shops and supermarkets to buy salt for a sense of security, despite the government's reassurance that China is not exposed to any nuclear radiation leaking from the Fukushima complex in Japan.
China's seawater, as a source of salt, would not be affected by radioactive leaks following explosions at Fukushima, the country's marine environment watchdog said Thursday.
The National Marine Environmental Forecasting Center said in a statement that currents in the Pacific Ocean were flowing eastward from Fukushima, while China is west of Japan. "It is impossible for radioactive substances to reach China's sea areas via the ocean current," the statement said.
Meanwhile, air monitoring showed that China remained unaffected by the radioactive leaks, according to the National Nuclear Safety Administration, under China's Ministry of Environmental Protection.
Still, the wave of panic buying spread across provinces from eastern Zhejiang to southern Guangdong to western Sichuan and even the far northwestern Xinjiang Uygur autonomous region. Prices of salt jumped five-fold or 10-fold in some cities.
'Here's soy sauce'
Supermarkets in Beijing and many cities across the country have run out of salt in just a matter of days. At 1 pm Thursday, dozens of people in an Ito-Yokado supermarket in Beijing's Chaoyang district crowded in front of the empty salt shelves, disappointed that they were too late for the competition.
Two workers kept carrying big boxes of soy sauce, shouting at the crowd: "Salt is sold out, here's soy sauce. If you still want salt, come early tomorrow."
The crowd rushed toward the soy sauce. One woman grabbed five bottles and complained, "Who knows if you can get salt tomorrow? Soy sauce is salty; better to store some in case."
"It started this morning," a staff member in the store's customer service center told China Daily. "So many people came to our store to buy salt, saying they need iodine to guard against the nuclear radiation from Japan."
In Wuhan, capital of central China's Hubei province, a resident named Guo was shocked by how fast salt disappeared.
"I heard the news that everybody is buying salt, so I went to the two biggest supermarkets in the area this morning," Guo told China Daily. "So many people were swarming toward salt shelves. The price is 20 percent higher than usual, and the shelves went empty almost in a second."
In cities of Zhejiang province, where the salt panic started, people lined up in front of supermarkets. According to the country's largest salt maker, China National Salt Industry Corp (China Salt), Zhejiang reported that 4,000 tons of salt were sold on Thursday, eight times the province's average daily sales figure.
Liu Rong, a 26-year-old professional in Shanghai, said she received more than three calls within two minutes from Ningbo, a city in Zhejiang, telling her to pile up salt.
"My mom first called me at around 7 pm Wednesday, followed by my cousin and my friends. All of them urged me to buy salt in Shanghai and ship it to them, because there was no supply in my hometown," she said.
But when she rushed into supermarkets in Shanghai, there was no salt, either.
'Ample reserves'
One direct result of the salt rush was reflected in the stock market. When it opened on Thursday, the share prices of Yunnan Salt & Salt Chemical Co. rose by 10 percent, the maximum fluctuation range allowed in a day by Chinese exchange rules. It closed with a 9.98 percent jump from the day before.
On the same day, China's top economic planner ordered a crackdown on hoarding of daily necessities.
The National Development and Reform Commission said in an urgent notice issued Thursday that local price control authorities should counter rumors about shortages of daily necessities and hoarding of these goods.
It also pledged ample supplies of daily necessities including salt, saying it would work with relevant agencies to meet market demand and maintain price stability.
China Salt also tried to relieve public concern Thursday, saying the country has substantial salt reserves to meet the demand for the product.
Only 20 percent of China's salt comes from the ocean. Most salt on sale is rock salt, which is mined.
"We have ample salt reserves to meet people's needs, and panic buying and hoarding are unnecessary," China Salt said in a statement released to Xinhua News Agency. "China has an annual salt production capacity of more than 80 million tons, but the country's consumption of edible salt was about 8 million tons a year."
The Ministry of Health posted information on its website, telling people that taking regular table salt cannot prevent radiation illness. An adult would need to ingest 3 kilograms (6.61 pounds) of salt at one time to help prevent health effects from radiation, the ministry said.
Potassium iodide pills are used to help mitigate the effects of radiation, but regular table salt doesn't contain enough iodine to block the poisoning, according to health experts.
'Rumors are harmful'
The Chinese government also weighed in Thursday, with Foreign Ministry spokeswoman Jiang Yu saying, "I do not see any necessity to panic."
In its notice, the Development and Reform Commission also urged local authorities to take "immediate action to monitor the market prices and resolutely crack down on illegal acts, including spreading rumors to deceive the public".
Michael O'Leary, WHO's representative in China, called on governments and individuals to "take steps to halt these rumors, which are harmful to public morale".
O'Leary said WHO "would like to assure governments and members of the public that there is no evidence at this time of any significant international spread from the nuclear site".
Su Xu, a researcher with the Chinese Center for Disease Control and Prevention, said that iodized salt would do little to help protect against radiation and warned that taking excessive amounts of iodine was harmful.
"Iodine drugs should be used only under the medical supervision of doctors and medicine specialists," he said.
Others worry the phenomenon showed just how far people's trust in official information has diminished.
AP, Reuters and Cao Yin contributed to this story.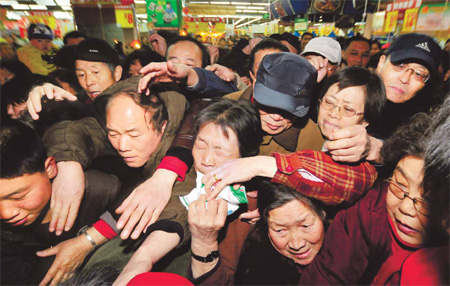 People panic over salt at a supermarket on Thursday in Lanzhou, capital of Gansu province. The shopping rush was triggered by false rumors that iodized salt could help ward off radiation poisoning. Chen Yang / for China Daily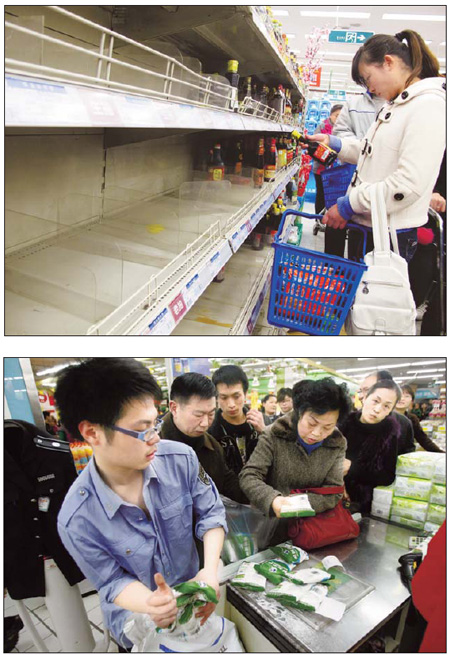 Top: Customers buy soy sauce after salt sells out at an Ito-Yokado supermarket in Beijing's Chaoyang district on Thursday afternoon. Liiu Zhe / China Daily Above: Customers at a supermarket on Thursday in Wuhan, capital of Hubei province, are not allowed to buy more than five packs of salt at one time. Joe Stephen / for China Daily
(China Daily 03/18/2011 page1)