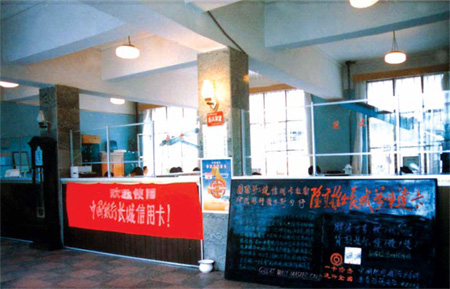 Bank counters, with tellers, that typify BOC operations in the 1990s. Provided to China Daily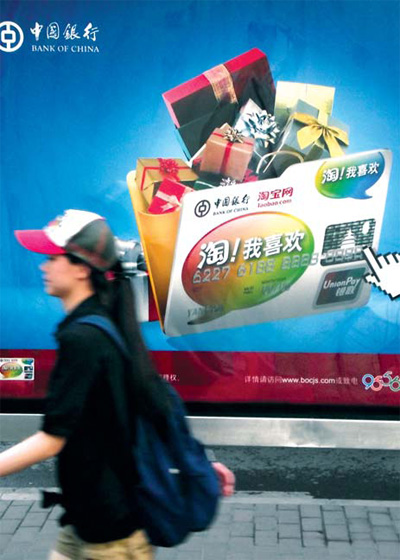 The bank has issued a total of 170 million various bank cards, one type of which is seen above, over the past 25 years. Zhen Huai / for China Daily

BOC's premier credit card, issued in late 2010, which can handle renminbi transactions all over the world. Provided to China Daily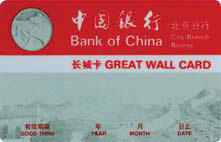 1986 version of a Great Wall card issued by BOC Beijing branch Provided to China Daily
Bank of China (BOC) issued a new type of credit card in late 2010, a part of its Great Wall card series, in its quest to satisfy customer needs.
BOC says it is sticking to its service ethos by actively pursuing innovation and this card is seen as the bank's flagship.
This latest card is another first - it handles renminbi settlements no matter where they take place. Whichever local currency involved is automatically exchanged at the International Credit Card Organization's rate.
This allows cardholders to travel worry-free on their global tours without the cumbersome job of going through currency exchanges or concerns about foreign currency limitations.
This card comes with an interest-free repayment period and, at the same time, can act as a debit card with interest on deposits, to provide greater customer flexibility.
The bankcard is trying to entice online shoppers as well, for the sake of convenience. It can be used in tandem with an Alipay Account - a popular domestic online payment method - to pay, using an Alipay password, instead of logging onto an Internet banking account.
Background
BOC has been helping to shift the landscape of financial services in China for some time.
In 1979, it signed an agreement with Hong Kong's Bank of East Asia (BEA) to introduce the East Asia BankAmericard in conjunction with Bank of America.
Afterwards, BOC expanded its bankcard services by collaborating with foreign and domestic banks like Hong Kong's Nanyang Commercial Bank Limited, the Bank of Tokyo, and American Express.
In 1985, BOC developed its own card through its Zhuhai branch, in Guangdong province. The following year, the bank expanded card services all across the country, all under the name Great Wall Card.
In 2004, BOC became the exclusive banking partner of the 2008 Beijing Olympic Games, and issued its first prepaid card to facilitate purchases by locals or foreign visitors at any site with Unionpay services.
This proved immensely popular with those who did not want to carry large amounts of money around during the game. They could buy the card at any BOC branch in Beijing and get a refund for any amount left on the card.
The bank says it has followed a customer-oriented, courteous service principle throughout its 25-year card history and has seen rapid growth in this sector, while developing a competitive advantage.
By the end of 2010, BOC has issued an accumulative number of 170 million bankcards, via which daily transactions surpassed 2 billion yuan (about $3.5 million).
Reputation
BOC announces itself as the most international of China's banks, with its extensive network of branches and subsidiaries. It has multi-currency card products, car rental discounts, and road assistance to people on the mainland, in Hong Kong and Macao, or from abroad.
By 2010, the bank has established 711 operations in 31 countries and regions, as well as in China's Hong Kong, Macao and Taiwan.
Prudent management and safeguarding clients have contributed to the bank's global renown, bank officers say.
Its monitoring system keeps personal information from being accessed by others, and its encryption technology guarantees account safety to the greatest degree.
This year, which marks the beginning of the 12th Five-Year Plan (2011-2015), means great business opportunities for BOC, according to the management.
They say they will improve text-messaging services by adding more information, including on major account changes.
The bank also lets cardholders check balances, available credit line, bonus points and other information via the short-messaging service.
Another way BOC can improve efficiency is by continually refining its network services. It plans to integrate its phone, Internet, mobile handset, and other services to provide more flexible customer options.
The bank is also pushing its online business as a way to engage in a low-carbon economy.
And finally, as opposed to traditional plastic cards, the bank's "virtual card" on the Internet is a harbinger of a new trend, which may be combined with other, diverse, payment methods like fingerprints, voice, or the retina.
(China Daily 03/11/2011 page5)