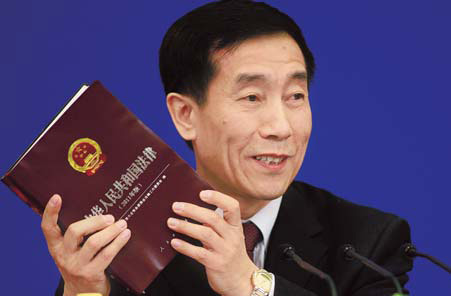 Li Fei, deputy director of the legislative affairs commission of the National People's Congress Standing Committee, displays a 2011 compilation of China's laws while answering a question at a news conference at the Great Hall of the People in Beijing on Thursday. Feng Yongbin / China Daily
Economic restructuring and transformation of growth mode highlighted for next 5 years
BEIJING - The country's legislative work will focus on pushing forward with economic restructuring and protecting people's well-being during the coming years, a senior legislator said on Thursday.
The transformation of the growth mode and economic restructuring will be crucial missions during the period of the 12th Five-Year Plan (2011-2015) and legal initiatives will support that, said Xin Chunying, deputy director of the legislative affairs commission of the National People's Congress (NPC) Standing Committee.
"New laws will surely be made during the period ... to encourage innovation and the creation of intellectual property, and promote advances in science and technology," Xin said at a news conference on the sidelines of the ongoing NPC plenary session.
During the session, national lawmakers and political advisers have been debating the best ways to ensure all people share in the fruits of development and narrow the wealth and income gaps.
Xin said legislative work will largely be directed at protecting people's well-being.
"We hope that through legal readjustment, social wealth will be distributed in a fairer way and shared by everyone," she said.
In 2011, China will enact laws on mental health, administrative coercion and entry and exit administration. It will also amend the Individual Income Tax Law, she said.
Xin said the laws all reflect the latest social developments and, to improve its legal system, China will enact new laws and regulations to address emerging social problems.
Also on Thursday, Wu Bangguo, the country's top legislator, said the State had solved the problem of drafting the right laws for people to follow. The more pressing problem now will be to ensure those laws are being observed and strictly enforced and that law-breakers are being prosecuted.
To improve the situation, it is paramount to enhance the awareness of laws, so people learn to use them to safeguard their legitimate rights and interests, said Li Fei, who is also a deputy director of the legislative affairs commission of the NPC Standing Committee.
Also, supervision, including monitoring by the people, legislators and the media, must be strengthened. The measure will ensure employees of State administrative bodies perform their duties in strict compliance with the statutes, Li said.
To improve the quality of legislation, Li said Chinese lawmakers have used extensive channels that allow the public to participate in lawmaking and have conducted research on the people's demands at the grassroots level as well as assessed the feasibility of laws.
Since 2008, China's top legislature has published more than 30 draft laws on its website, upon which the public have been able to submit proposals, he said.
China Daily
(China Daily 03/11/2011 page5)