SANTIAGO, Chile - Andy Roddick sent the United States through to the Davis Cup quarterfinals on Sunday by dispatching Paul Capdeville 3-6, 7-6, 6-3, 6-3 to give the Americans an insurmountable 3-1 lead over Chile.
Roddick improved his record to 12-0 when given the opportunity to close a Davis Cup tie, earning Jim Courier a victory in his debut as US captain.
"Let's not mistake me being 12-0 with me not getting nervous," said Roddick on the United States Tennis Association website (www.usta.com). "When I hear stats like that it's gratifying for me.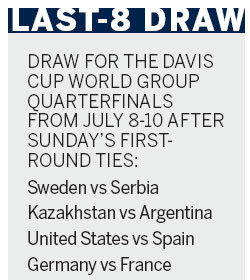 "It's nice to hear but I don't get to clinch without Bob and Mike (Bryan) putting me in position 12 times."
Roddick was again a workhorse for the US winning both singles' matches and improving his Davis Cup record to 33-11 but he boasts a modest 10-9 record on foreign soil.
After Capdeville won the opening set, a scrappy Roddick levelled the match by taking the second in a tiebreak 7-2.
The world No 8 then flexed his muscles, blasting 17 aces past the 165th-ranked Chilean, including five each in the third and fourth sets.
The US will next host Spain, who beat Belgium on Saturday.
The USTA is considering three venues for the tie, Albany, New York, San Antonio and Roddick's home town of Austin, Texas.
"I think it's been no secret that I have wanted it for a long time," said Roddick. "It would be a dream come true to play at home. I didn't come back to make the quarterfinals of Davis Cup.
"It's a blockbuster match-up. It's as good as a second round as I've ever seen."
Reuters
(China Daily 03/08/2011 page22)