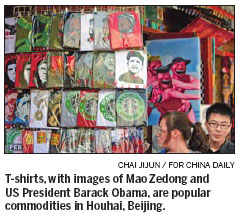 On New York's trendy St. Mark's Street and in the perennially popular T-shirt stores of Chinatown, Chinese military caps and clothing bearing Chairman Mao Zedong's image sit next to Che Guevara shirts, Palestinian keffiyeh scarves and other politically-charged fashion items.
While symbols of Communism in fashion might seem meaningful in the light of China's economic and cultural rise, fashion experts say that this trend is more a reflection of the cult of celebrity.
"Fashion has made the image of Mao an icon devoid of meaning," says Hazel Clark, dean of the School of Art and Design History and Theory at Parsons in New York. "It's still a powerful, iconic image but it can be compared to Andy Warhol's images of other celebrities. Images of Guevara and Mao are popular without people really knowing the deep complexities of the men or their politics. They've become iconic in the way that Barack Obama has become iconic."
Shephard Fairey's Warhol-esque screen print of Obama's face under the word "Hope" became world famous during the 2008 elections, and while it could be argued that the print was part of a worldwide image campaign that propelled Obama to success, the T-shirt has since become just another familiar symbol in pop culture.
According to Daniel James Cole, a professor of Fashion History at Pratt Institute, images of Guevara came into fashion in the 1960s around the same time as camouflage patterns, both made popular by hippy culture.
"I think that the Che Guevara shirt was at one time something of importance," he says. "But it's lost its meaning since then. I once saw a shirt with Obama's face on it at a children's store, and we've seen hot pink and gray camouflage at Gap Kids. It doesn't have associations with protests or war at all. A T-shirt with Che's face bears little difference from wearing a shirt with a reproduction of Warhol's Marilyn Monroe. It's just another iconic face."
In fact, in 1973, Warhol did reproduce Mao's face on a canvas, which sold for $17.4 million in 2006.
"I think that when Warhol did that, he was simply turning Mao into a commodity," Cole says. "He treated Marilyn's image the same as a soup can, and this turned Mao into a soup can, essentially."
Of course, Chinese imagery and influences have been visible in Western fashion long before Warhol made it popular. Cole points to designer Anna May Wong's introduction in the United States of a tighter-fitting cheongsam in the 1930s, and the use of traditional Chinese style in the work of Yves Saint Laurent in the late 1970s.
In the 1990s, the popular Chinese artist Zhang Hongtu painted kitschy portraits of Mao. More famously, in 1994, Chinese-American fashion designer Vivienne Tam used Zhang's prints of Mao in a clothing collection, a move that Clark believes was a light jab at Chinese history and pop culture.
"I think that when she did that, it was playful, but it was also (an) acknowledgment of Chinese history," she says. "There are so many layers of history and memory and meaning that go toward making China what it is today, and the way China has emerged in the world. There are complexities there, which artists are acknowledging. The image of Mao is simply part of China's popular culture."
But in the US, youth culture has often claimed a superficial kinship with political causes and imagery with no true understanding of those causes, Cole says. A few years ago, keffiyeh scarves, a symbol of Palestinian freedom, saw a surge in popularity in the US.
Often, there was no intention behind the wearing of the scarf beyond a light association with rebellion, Clark says.
"Keffiyeh scarves were edgy at some point, but there was a fear they'd been misappropriated," Clark says. "You can also talk about white kids wearing dreadlocks. A lot of items are picked up and then spread and depoliticized. There's a sense that something is edgy and different, and through that it becomes emptied of its original meaning. Sometimes people wear something to associate with the fundamental politics behind an item, but other times it's really just something cool to wear."
Cole echoes her belief that politically-tinged fashion is mostly superficial.
"I think that when style gets assimilated into Western clothing, a lot of people don't really understand the references that are going on in their clothes. They buy something because it's comfortable, or because they think it's cool. At the end of the day, military style and imagery is just viewed as cool style."
China Daily
(China Daily 03/01/2011 page19)