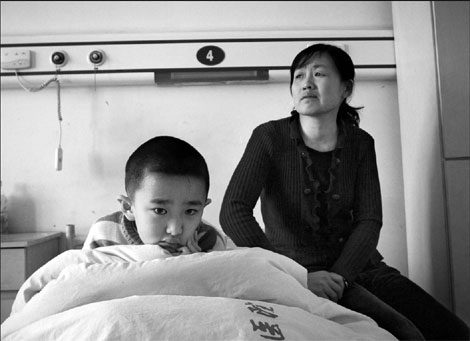 Bi Haotian, a boy suffering from OI, sits with his mother in a hospital in Northeast China's Heilongjiang province. Provided to China Daily
Association treats children with brittle bone disease using charitable donations
BEIJING - For Liu Aiwei, the past Spring Festival was her best because her 7-year old son had to spend it with his legs in a cast any more.
Liu's son is an osteogenesis imperfecta (OI) patient. The condition's clinical characteristics are fragile bones and bone deformities. OI is a genetic connective tissue disease. It is estimated there are about 100,000 OI patients in China.
Liu's son suffered frequent bone fractures because he was much more vulnerable to impact and collisions than other, healthy children, she said.
Thanks to the China Dolls Care and Support Association, which introduced children's orthopedic doctor Ren Xiuzhi from Tianjin Hospital to Liu, the boy underwent two orthotics operations on his legs last year and is in rehabilitation now.
Ren met a child with OI for the first time in 2001 and started to focus on the research and treatment of the condition in 2004. He is one of the few veteran doctors who have medical experience of treating the disease in China.
"Having learned that we couldn't afford the medical expenses, the association paid the operation fee of 10,000 yuan ($1,515) for us," Liu said.
Founded in May 2008, China Dolls Care and Support Association is a non-profit welfare organization dedicated to creating a better environment for OI and other rare disease patients.
"Many OI patients and their families have no access to information about the scientific medical treatment for the disease," said Huang Rufang, founder and executive director of the association.
In China, there are just three hospitals providing proper and effective treatment to the brittle bone disease - Tianjin Hospital, Shandong Provincial Hospital and Peking Union Medical College Hospital, Huang said.
"Currently, drug treatment and surgical operation are the two therapies for OI, and the earlier they receive treatment, the better the results they will get," he said.
What these patients suffer most is frequent bone fractures, probably five to six times a year, and each time they need two months to recover, he added.
Because of this, OI patients spend most of their waking time in a wheelchair.
The disease brings sufferings not only to the victim, but also to his or her family.
Huang said the association offers assistance to every family with an OI patient instead of just the patient. One parent cannot work because he or she has to look after the sick child, rendering them poorer than they might otherwise have been.
By the end of last year, the association had raised 100,000 yuan through the sale of greeting cards for charity. The money was donated to 500 families in the form of gifts and cash.
The association has 10 employees of whom 30 percent suffer or have relations with rare diseases, including its founders Wang Yi'ou and Huang Rufang.
Wang suffers from a mild form of OI and Huang is a patient of achondroplasia, which caused him to be short of stature.
"This helps our organization better understand families' needs," Huang said.
In April or May this year, the association is going to launch a cooperation project with Taobao.com aimed at subsidizing 20 mothers of "China dolls" to open online shops.
"Operating online shops is a good job choice for them because they could work at home caring for their children at the same time," Huang said.
The association will provide computers and financial aid to these mothers, giving them a good start.
Fifty percent of the association's capital comes from individual donations, while the rest comes from corporations and other foundations.
China Daily
(China Daily 02/28/2011 page20)