Departure gate
Your passport to the latest destinations and airline promotions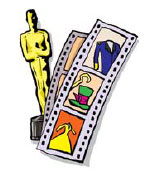 Oscar-nominated costumes on view at fashion museum
Helen Mirren's Elizabethan dress from The Tempest is covered with gold and silver zippers, all the way up to its ruffled collar. The hat that made Johnny Depp the Mad Hatter in Alice in Wonderland was crafted from imported Italian leather woven with gold threads - sized to fit the fluffy orange wig he wore beneath it. The costumes from True Grit were made new, then aged to look more than 100 years old, while The King's Speech sports original garb from the 1930s.
Film fans and fashionistas can get an up-close look at these Oscar-nominated outfits and nearly 100 other movie costumes at LA's Fashion Institute of Design & Merchandising's 19th annual Art of Motion Picture Costume Design exhibition, Tuesdays through Saturdays until April 30.
1930s fun park now 'historic'
A 1930s African-American amusement park in western Pennsylvania has been listed on the National Register of Historic Places.
Fairview Park has been in continuous use since its founding, a time when blacks and whites had separate facilities. Black churches purchased 100 acres of land in Delmont, and the local Sunday school association founded the park - the first black-owned amusement park in the region.
The original rides are now gone, but the park is still enjoyed by people of all races.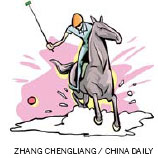 Debut of snow polo in China
An annual international snow polo challenge, the first of its kind in Asia, was introduced in Tianjin by the Goldin Metropolitan Polo Club, the biggest private polo club in China.
During the one-week tournament that closed on Sunday in Tianjin, six professional polo teams from Argentina, England, France, Australia, New Zealand and the host team Hong Kong Goldin presented a thrilling experience on an artificial snow-covered pitch to Chinese polo fans from Beijing and Tianjin.
The luxury winter game, first played in Switzerland in 1985, is a modified version of polo. It is played on a snow-covered arena surrounded by a fence, using a larger, red-colored ball.
Know the US Pacific Northwest
The Seattle Travelgram and Alaska Travelgram keep travelers heading for the northwest corner of the US up-to-date on seasonal deals and new destinations. Heading to Alaska to see bears or native dancers? Looking for the best seafood and shopping in Seattle? Longtime regional travel writer Scott McMurren tells readers about both popular destinations and the roads less traveled. The weekly newsletters (www.alaskatravelgram.com, www.seattletravelgram.com) highlight the lowest-available fares and chance to win prizes from airlines, hotels and tour operators in both areas.
Facelift for Austrian relic vault
The newly renovated treasure vault at the Augustine canonry of Klosterneuburg on the banks of the River Danube in Austria will re-open in May after extensive renovation. The treasure and relic chamber features 150 exhibits, including some dating back to Leopold III of Babenberg, the patron saint of Austria. He founded the canonry in 1114. The objects include writing utensils and a portable altar. (www.stift-klosterneuburg.at)
Airline news and deals
Sichuan Airlines to fly from Chongqing to Hanoi: China Sichuan Airlines will launch a new route between Chongqing and Hanoi on March 6. An airbus A320 will shuttle two flights each week with the round-trip price at 7,730 yuan. Service between Chongqing and Puget will be launched on March 16, three flights each week.
Hainan Airlines' new routes: Hainan Airlines initiated a new airline on Feb 22 shuttling between Sanya and Lanzhou, with a transfer at Nanchang. The airline will have two flights each week, and it takes two and a half hours each trip.
Hainan Airlines to launch new route: Hainan Airlines will initiate new flights on March 1 that will shuttle between Sanya and Xining, with a transfer at Xi'an. It will take off from Sanya at 8 am, and arrived at Xi'an at 11:10, and it arrives Xining at 13:20 after it leaves Xi'an at 12:00. The plane will leave Xining at 14:20 and arrive Xi'an at 15:40. It will arrive Sanya at 19:30 after taking off from Xi'an at 16:30. The largest discount will be 50 percent.
China Daily - Associated Press - DPA
(China Daily 02/27/2011 page16)
Today's Top News
Editor's picks
Most Viewed