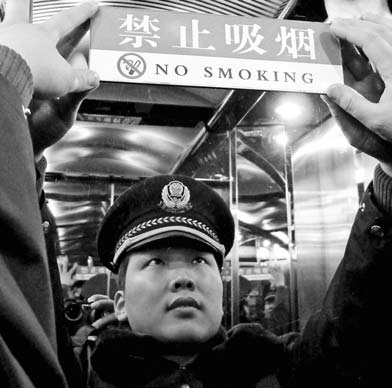 An officer puts a no-smoking sign up in public space at a power company in Huaibei, East China's Anhui province, on Jan 9. Provided to China Daily
Nanchang - Tobacco control laws that would completely ban smoking in enclosed public places are badly needed in China, where tobacco use and second-hand smoke kill roughly 1.2 million people a year, a group of health and legal experts said on Friday.
Speaking at a seminar in Nanchang, capital of East China's Jiangxi province, Yang Gonghuan, the leading tobacco control expert in China, said about 768 million Chinese, or 72.4 percent of the country's non-smokers, have been exposed to second-hand smoke.
Yang, deputy director of Chinese Center for Diseases Control and Prevention, said those who breathe in second-hand smoke are at a greater risk of contracting lung cancer, coronary heart disease and other ailments.
She said a large percentage of China's non-smokers inhale toxic second-hand smoke in public places such as restaurants, office buildings, schools, hospitals and vehicles used for public transport.
More than three dozen Chinese health and legal experts were invited to the smoke-free legislation seminar in Nanchang on Friday to lobby for the passage of a city smoking ban that, advocates believe, would be the toughest in the country.
The proposed law, called the Regulation on the Control of Harm Posed by Second-hand Smoke, was shelved following a reading by the Municipal People's Congress in December.
Those who opposed the bill conceded that it met recommendations made by the World Health Organization's (WHO) smoke-free initiative but was too "tough" and "difficult to enforce" in China.
Ying Songnian, a law professor at China University of Political Science and Law, told the seminar that it's difficult for smokers to quit lighting up but easy to protect non-smokers from the harm caused by second-hand smoke.
Ying said many Chinese cities have enacted laws to control the use of tobacco, but none of the regulations is as strict and comprehensive as those proposed in Nanchang's draft regulation.
The original text of the regulation mandated a total ban on smoking in 11 types of public places, including offices, schools, medical institutes, public transport vehicles, malls, sports venues and Internet cafes.
Starting Jan 1, 2013, the ban was to be extended to hotels, restaurants, bars, nightclubs, beauty salons, mahjong houses and other entertainment venues.
Ying said if the bill were passed in its original form, Nanchang would set an example that many cities would follow.
China has ratified the World Health Organization's Framework Convention on Tobacco Control. But experts say the results of that decision have fallen short of the government's promise. For that, they blamed interference from the country's powerful tobacco industry.
China's tobacco monopoly, China Tobacco Corporation, is the largest cigarette maker in the world. Tobacco revenue accounts for roughly 7 percent of the government's tax income.
Xinhua
(China Daily 02/26/2011 page4)